Concussions Pose A Threat To High School Athletes
Kids involve themselves in sports as a fun way to exercise, but they may not be aware of the risks they take when participating in sports.
As harmless as it seems, kids who participate in physical activities have a higher chance of getting injured than kids who don't play sports. 1.35 million youths a year have a serious sport injury… 12 percent of ER visits involve concussions… 47 percent were in kids ages 12-15, according to USA Today.
Junior, Chris Barys, blacked out when tackled by a cornerback during a SJHHS football game. Unaware he had just received a concussion, he went back into the game. He was hit two more times before realizing he was seriously injured.
"I had to stay in a dark room, couldn't text, couldn't look at lights, couldn't listen to any sounds," said Barys on his recovery 
Concussions are common, but serious, head injuries usually caused by getting hit in the head or shaken violently. It can alter the way your brain functions, making it hard to remember, see, walk, or talk. Memory lapse, depression, and brain swelling are just a few long term effects of concussions.
Spinal fluid surrounds the brain and acts as a cushion so the brain doesn't hit the skull. When hit hard enough or shaken, the brain can hit the skull which causes a concussion.
The symptoms of concussions like nausea, tiredness, and confusion, may not be apparent, leaving the athlete unaware of their injury. Athletes can often convince themselves they are fine, even with a traumatic injury. 
"I was at a karate tournament when my opponent hit me in the eye. I only remembered bits and pieces of the day, but I do remember being upset that I couldn't fight anymore because I was injured," said senior, Giavanna Caputo.
Athletes who engage in full contact sports, like football and karate, get their fair share of concussions. When an athlete is constantly getting slammed into, injuries to the head are inevitable.
"I missed school for seven weeks. I couldn't do anything because I couldn't think. I couldn't see straight and I couldn't read. I finally went back to school for a month and I had a relapse and I was out of school for three more weeks," said junior, Grant Rafferty. 
These problems are not confined to high school sports, in professional sports injuries like this have been a growing concern and have even lead to legal conflicts. Four former NFL players sued the league and their helmet makers for past head injuries. Each one suffered from symptoms of concussions. The NFL agreed to pay for past, present, and future medical bills, but the players insist the league pay for treatment for all past, present, and future NFL players who were injured due to lack of efficient head gear.
Frequent concussions throughout the development of the brain can have long term effects. Kelly Sentman, junior soccer player, said, "I now have glasses because I can't see." Sentman suffered a blow to the back of the head during a soccer game earlier this year after another player knocked her.
About the Writer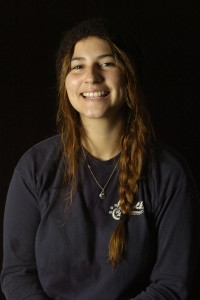 Jenna Clemente, Staff Writer
Senior 2014. I am a writer for the San Juan Hills newspaper. I enjoy soccer, lacrosse, surfing, and paddleboarding. I prefer cold, rainy weather over any...