Cities Resist Sanctuary Law
California's Senate Bill 54 allows protections for undocumented, but federal government and cities are challenging the law.
Hang on for a minute...we're trying to find some more stories you might like.
San Juan Capistrano now backs the federal government and Department of Justice with the resolution and stands against the State of California and Senate Bill 54.
Senate Bill 54 is a California law designed to protect undocumented immigrants by creating a sanctuary from federal authorities. It prohibits state and local law enforcement from questioning, holding, or arresting suspected undocumented immigrants simply for the purpose of determining their status, and reporting it to the Immigration and Customs Enforcement (ICE).
Essentially, it turns California into a sanctuary state. However, the protection does not apply to anyone who in the last fifteen years has been convicted of a list of 31 crimes or is a registered sex offender.  The bill was signed into law by Governor Jerry Brown in 2017
The bill, issued by California Senator Kevin de Léon prohibits, "state and local law enforcement agencies, including school police and security departments, from using money or personnel to investigate, interrogate, detain, detect, or arrest persons for immigration enforcement purposes."
The Department of Justice is currently suing California for its sanctuary law, calling it unconstitutional. In March of 2018, the small city of Los Alamitos was the first of many cities in California to side with the Department of Justice and go against SB 54.
San Juan Capistrano held a meeting on April 3, 2018 to hear arguments and vote on whether they were going to side with California making a resolution and work with the federal government and the Department of Justice.
This topic was brought up by councilwoman Pam Patterson and was amended by councilman Derek Reeve.
Many people spoke from the public during this meeting. Most native residents of San Juan Capistrano who spoke were opposed to this resolution and in support of SB 54, including Hugo Salazar, a son of undocumented immigrants from Mexico and an immigrant himself.
For Salazar, "Standing up for those who do not have a voice, for those who are undocumented, for those who are out there living in fear" was important.
Lucy Hughitt, a freshman at SJHHS, was also there to speak. She spoke about her friend, who is an undocumented immigrant, with high esteem. "People like him are the future," said Hughitt
Multiple people who approved of the resolution wore red hats, emblazoned with "Make America Great Again." Many visitors from around the state came to support the repeal of the law, some local but some distant.
Arthur Shopper, a dedicated supporter of Donald Trump who is known throughout the media, spoke in favor of the resolution. "SB 54 is widely unconstitutional," said Shopper.
Cody Martin, a senior and president of the Teenage Republicans Club at Dana Hills High School also backed the resolution. Martin stated that the council needed to get rid of SB 54, "to protect our city, our state, and our country."
One of the main points they addressed at the city council was public safety. Each side of the argument defended the fact that their way would be the safest for the public.
Heather Chapman helps run a non-profit organization that benefits under-resourced families in San Juan Capistrano. Chapman said that in supporting SB 54, "law enforcement can still do their job" and that "Senate Bill 54 keeps my community safe."
However, Stella May, a supporter of the resolution and representative of the state of California stated that SB 54, "restricts law enforcement and endangers public safety."
"I do support the repeal; I think it's a horrendous policy," said Reeves. His three fellow council members also agreed to support the repeal and resolution. Mayor Sergio Farias disagreed with the resolution. He believed that the city council meeting wasn't even necessary.
"This is getting in the way of what city business is really about," said Farias.
At the end of the meeting, the council came to a conclusion. Farias was outvoted 4-1, making San Juan CApistrano one of many cities in California siding with the Federal Government against SB 54.

About the Writer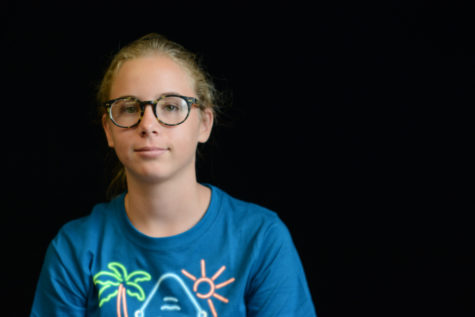 Libby Gorton, Staff Writer
Libby is a freshman at San Juan Hills. She is a great writer who also loves photography and drawing. She has lots of interests, but she enjoys writing...