CIF: Building Chemistry For SJHHS Girls Golf Team
San Juan Hills' Girls Varsity golf team's 9-6 season comes to a close as CIF on November 2nd approaches, drawing much anticipation and excitement for such a close team.
This year the Girls Golf Team took on the higher South Coast League for the second year, competing against tenacious schools such as Tesoro, Dana Hills, JSerra, Capistrano Valley, San Clemente, and Trabuco Hills. Despite a difficult season, the girls still performed well in League Finals.
Three Stallions, Makenna Kjellberg (11), Kaitlin Herron (12), and Captain Emily Lichty (12), made it into the second day of League Finals, placing 3rd in league (as a team). From there, Lichty was the only one to advance into CIF Individuals, a huge step forward from last season.
Lichty said that the "team goal for this year was to go to CIF. Last year we didn't qualify as a team, so this year we were determined to go back. We accomplished the goal, and the team will be playing at Lakewood Country Club on November 2."
Emily was a medalist nine times this season and plans to attend Cal State San Marcos next fall and play on their Division 2 golf team.  However, leaving her close friends that she has made over the years will be difficult.
"I love the girls on the team so much!" said Lichty, "this year has definitely been one of my favorites, because we all get along really well. We are always laughing and making jokes on and off the golf course."
Makenna Kjellberg (11) also adds to the relationships the team has with each other and said, "We are all super close and have created a really great bond. The girls make golf so much more enjoyable; even if I'm not doing well, they always know how to cheer me up."
This trusting and loving teammate connection allows for teamwork and commitment in such an individual sport. Kaitlin Herron (12) firmly believes that being on a dedicated and successful team has produced improved character.
"Being on Varsity made me realize that if I became more focused and worked harder I could advance a lot farther in the sport.  A lot of people think that golf is very serious and quiet, but in reality it's really the only sport where you get to talk to your teammates the entire match," said Herron.  She also added, "golf has truly shaped who I am as a person."
About the Writer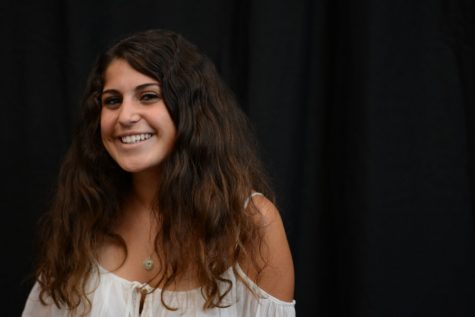 Mia N. Jones, Sports Editor
This is Mia's second year on The Express, and she is beyond excited to be a part of such a fun program her senior year! Mia plays on the Varsity lacrosse...