The Controversy Behind the New Mulan (2020) Movie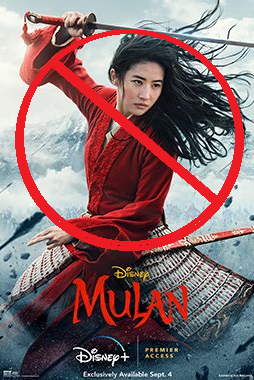 Disney's much-anticipated "Mulan" reboot has finally been released to the public, but it has received immediate backlash due to the filming location, Xingjian, a region of China that currently has concentration camps set up for the native Turkish Muslims.
Investigations on Xingjian have been ongoing. There have been multiple reports of forced labor, torture, and death of Muslim minorities on these camps, according to research published by Foreign Affairs. 
Activists for human and Muslim rights have come to defend the Uyghur natives, forming protests, holding rallies, and now, boycotting Mulan. Twitter has even joined the protest, as the #boycottmulan becoming exceedingly popular on the platform. 
"Now, when you watch #Mulan, not only are you turning a blind eye to police brutality and racial injustice . . . you're also potentially complicit in the mass incarceration of Muslim Uyghurs," said Joshua Wong, a young, Democratic activist.
Even before knowledge of the filming site was known, the movie was already being criticized due to previous comments from the main actress, Liu Yifei, in support of Hong Kong police and taking a pro-China stance in the Hong Kong protests. 
"I can't speak for what Yifei says in China, we didn't know about it, what she was going to say, and that's up to them," said Alan Horn, co-chairman and chief creative officer of The Walt Disney Studios.
The amount of negative feedback on the movie numerically shows, as two weeks after it's release, "Mulan" has only made $11.4 million in the box office, as opposed to the $200 million dollar budget for the movie.
With the exception of Alan Horn's comment, Disney as a whole has yet to make any public statement regarding this backlash, although, regarding "Mulan's" plunging revenue, it might be in their best interest that they do.