O'Brien Leaving for Nebraska
Hang on for a minute...we're trying to find some more stories you might like.
Every Friday night for the first few months of the school year, students and staff alike packed into the Badlands to see for themselves the excitement the Stallions football team brought to the school this year, much of it contributed to their big gunslinger and future Nebraska quarterback, Patrick O'Brien.
In 2014, Patrick O'Brien played his first full season as quarterback for the Stallions. O'Brien completed 65% of his passes for 2,093 yards, 12 touchdowns, and 11 interceptions. He also rushed for a team high 13 touchdowns, a glimpse of the high level O'Brien was capable of playing at both with his arm and his legs.
"Patrick has grown physically, has greatly improved his fundamentals and mechanics, and has improved in his knowledge of our offense and defensive recognition." said Coach Aaron Flowers.
Over the summer, O'Brien worked hard on his craft, competing in numerous 7 on 7 passing competitions -winning several- and gaining attention on a collegiate scale from schools such as Texas Tech, and Nebraska.
When asked what makes a quarterback like O'Brien appealing to collegiate coaches, Flowers explained "Patrick has the skill set that pro-style college offenses are looking for. He has a strong arm and can make any throw. He also is big enough to stand in the pocket and see the field and deliver the ball."
After going on a official visit to the campus and talking to coaches and players, O'Brien was offered a full ride scholarship from the University of Nebraska over the summer, and has verbally committed to attend and play football for the Cornhuskers in 2016.
"I chose Nebraska because it's a great school and I fell in love with the campus and the coaches are great people" said O'Brien.
Since then O'Brien has taken his game to another level, competing in the Elite 11-a quarterback skill competition between the 18 best quarterbacks in the nation- and leading the Stallions to a 8-3 finish during his final season at San Juan Hills.
"Once he got to high school and committed all his time to playing football, I knew he had a love for the game. He's a great competitor and I am very proud and excited to see what his future has in store" said Mr. O'Brien of his son as a football player.
In his final season, O'Brien completed 74% of his passes for 2,895 yards, 32 touchdowns and only 7 interceptions, as well as 626 rushing yards and 8 rushing touchdowns, pushing his total touchdowns through the year to 40, exceeding his total touchdowns of 25 last year by a large margin"
"The biggest adjustment this year I think is that we had experience from last year to help us win tough games" said O'Brien.
Now that the season has finished, O'Brien will soon be moving on to collegiate football, and sooner than expected.
O'Brien has already completed his first semester of his senior year over the summer, allowing him to graduate after the Stallions finish the 2015 season, in order to participate in spring football for Nebraska.
"I am very excited to enroll early because it will be something completely new to me" said O'Brien on his early enrollment.
O'Brien's commitment to a Big 10 school began an increase in attention for the San Juan Hills football program, but the attention has since shifted.
"The added attention our team received at the beginning of the season was due to Patrick and his ability/recruitment, but as the season went on it became more about the team's success over the first half of the season" said Flowers.
With this added attention on the program Flowers sees it as both a blessing and a distraction, saying "It's good for our school, but can also lead to overconfidence or a feeling of we're good so we don't have to work that hard. I try not to pay attention to it and tell the players to do the same. Other people can write and say whatever they want, but what we do on a daily basis is who we really are."
Regardless of the attention received this season and for what reason, the Stallions football team played their hearts out until the very end, being led all the way by the future Cornhusker, Patrick O'Brien.

About the Writer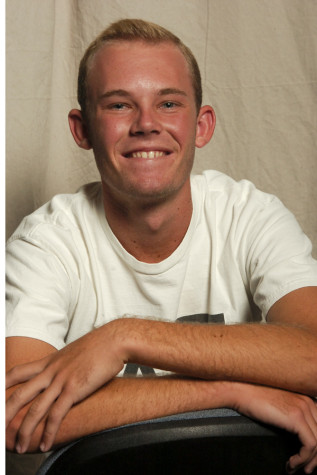 Riley Glenn, Multi Media
Riley Glenn is a Senior at San Juan Hills High School. He has spent two years as part of the TV Broadcast team at the school and this is his second year...