SJHHS Girls Tennis
The SJHHS girls' tennis team went up against Trabucco on Thursday in a grand season finale. Losing meant ending the game for tennis, winning meant entry into the League Finals.
Thanks to their determination, SJHHS brought victory home once again, with a final score of 14-4. With this win against Trabucco, they've won the League Championship and will soon enter the League Finals, where they'll work towards entering the Tennis Tournament.
The end of the season brought some anxiety, but despite any fears of failure, the girls played hard and stood strong, with the home field advantage.
"Everyone put their all into it and we were always supportive of each other," said Nowicki (11).
Next week, the girls start their training to work through League Finals.
The season began with a rough start.
Saint Margaret's turned up the heat on SJHHS girl's tennis, slamming the girls with a 15-3 loss. Although SJHHS lost 12 matches, each member of the team kept their spirits high and fought on. Each girl played hard, despite the recent heat wave hitting our area. The team continued to support each other as both friends and teammates.
"Joining a new team is like joining a family. It's a whole new experience waiting to happen," said one player. Throughout the game, the girls switched between single and double matches.
"Our team is really looking forward to the coming season, and although we haven't started our  official season, we are working harder everyday to get better as a team and as tennis players," said Emma Giles (12).
Despite past defeats, it's still obvious the girls refuse to give up and will strive for victory. Until then, they will continue to work hard.
The players that day were Emma Giles (12), Tess Smolders (11), Caylin Duenas (11), Elizabeth Nowicki (11), Lauren Wong (11), Sophie Bolotin (10), Corey Levinson (12), Reese Thomas (9), Ashley Dickman (11), Bailey Bashara (10), Kelley Green (9), Christine Fong (12) and Alyssa Picariello (11).
Less than two weeks later, SJHHS took victory against El Toro with a 16-2 win. With their combined efforts and unbreakable persistence, they came home victorious.
According to the girls, tennis isn't simple nets and rackets. "Tennis is a mental game – you have to play smart and play hard," said Picariello.
Co-Captain, Levinson, sees tennis not a game but as battle. "This is war," she declared as the match between El Toro and SJHHS began.
"I love our team because we are a true family" Smolders said, standing alongside her teammates.
"A family that slays together, stays together," said Giles.
Thanks to the girls love for one another and the game, they stepped up and triumphed.
Coach Lauren Gelgur, with head raised high, said "I am proud of my team for working hard and it has been a great pleasure and privilege to be their coach." She looks forward to staying with our school and further contributing to the future of SJHHS tennis.
About the Writer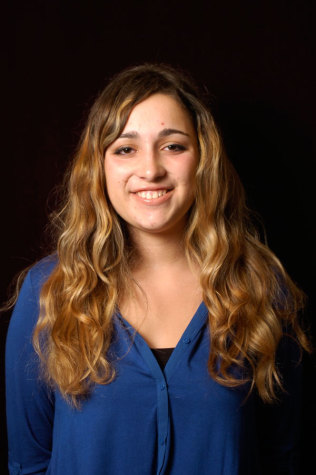 Brandi Ortiz, Fiction Editor
Brandi Ortiz has always been an intense reader, allowing the worlds of fact and fiction to envelope her heart and mind. She very much enjoys reading, writing,...