Coach Inspires Players Both On and Off the Court
He started to feel pain in his back and hips in January of 2019. March and February came around and the pain increased dramatically throughout his lower body. In April, the pain had spread to the rest of his body. It had gotten so bad that he got a buzz cut because brushing his hair had become too painful. During the final three months of the school year, the constant pain forced him to walk with a limp. At one point during the summer it looked as though he may not recover.
History teacher and varsity basketball Coach Jason Efstathiou had been suffering from immense pain for months without telling his students or school staff. 
"I just didn't talk about it and I kept it to myself, but I was suffering badly. I think people took notice which is what forced me to talk about it. I was limping pretty bad and I was losing weight with no explanation and I wasn't trying to lose weight. . . Pain kept me up all night. So the combo of the pain, sickness and sleeping two hours a night took its toll," said Efstathiou.
After the school year ended, Efstathiou took the entire summer looking for a diagnosis for his condition and for a treatment to alleviate the pain.
For nearly three months Efstathiou was at the Kaiser Irvine Medical Center on a weekly basis. All the while, doctors and medical specialists kept running test after test to find a diagnosis.
"
I was scared, I can't lie. They were throwing out words like cancer, MS, Liver disease, and all sorts of possibilities. So it was nerve racking. I am in my 30's, I have a young family."
— Jason Efstathiou
"I was scared, I can't lie. They were throwing out words like cancer, MS, Liver disease, and all sorts of possibilities. So it was nerve racking. I am in my 30's, I have a young family. My kids were only two and four years old. They had me in machines doing brain, spine, whole body scans. Sometimes the tests took over an hour where you were contained in a small tube, basically trapped," said Efstathiou.
During that whole period Efstathiou had received four MRI's on his brain, neck, and spine, multiple ultrasounds of his abdomen and thyroid, CT Scan, countless blood tests, and a Nerve Conduction Test. Despite that, all of the tests kept showing that he should be perfectly fine.
"They couldn't figure out what I had and I was just getting in worse and worse pain. The pain started to travel all throughout my body, and the pain made it difficult to walk. And then I started to lose a ton of weight without trying," said Efstathiou.
With his condition deteriorating, Efstathiou had to keep motivating himself to keep fighting through the pain.
"First and foremost, I was thinking 'I want to get better for my wife and my kids'. I was not able to help my wife with anything. Obviously there is the situation of working and making money, but there's also the everyday stuff like being at the house and playing with my three and four year old kids," said Efstathiou.
After months of nonstop agony and still without any answers, Efstathiou was finally introduced to a doctor who looked back at his previous tests, and determined that the Nerve Conduction Test was done improperly. 
The new test showed that Efstathiou, who has been a type I diabetic for seven years, had Small Fiber Neuropathy, also known as TIND (Treatment Induced Neuropathy of Diabetes). This is a rare form of neuropathy which only affects around one percent of people with Diabetes and Neuropathy.
"I was very frustrated that the first neurologist I saw insisted that it wasn't neuropathy, because most signs pointed to it being neuropathy. . . The test the first neurologist did was a Nerve Conduction test which is for Large Fiber Neuropathy. The rare neuropathy I have is a Small Fiber Neuropathy, so the test he did wouldn't have detected that. I think if they found things out sooner and treated me sooner, I wouldn't have gotten as bad as I did," said Efstathiou.
With an official diagnosis, Efstathiou now had to focus on treatment and recovery. His treatment included using a nerve rebuilding machine which involved submerging his legs and hands in water with electrodes to send signals to his spine and nerves, taking multiple supplements three times per day designed to target specific nerves, two times a week visiting a nerve therapist to help generate stimulation in his nerves, and for a time included taking medications that turned out to be only leading to negative side effects. 
"
I was in so much pain that I couldn't even hug my kids for a while since the touch was so sensitive"
— Jason Efstathiou
During the early months of treatment, the pain and sensitivity had still been debilitating. "I was in so much pain that I couldn't even hug my kids for a while since the touch was so sensitive," said Efstathiou.
For a while recovery had been slow. Efstathiou had been stuck in bed for around 10-12 hours a day and his pain sensitivity made performing regular tasks extremely difficult. But by October Efstathiou's voice had become stronger, he had gotten more energy, and physical activities that once seemed too painful were now getting easier to do.
After seven months of suffering, being stuck in his own house, and being in near constant pain, Efstathiou was recovered enough to be able to take his wife out to dinner for their 10-year anniversary.
"Coach E came out to our tryouts, and surprised us all. We all thought he was at the hospital getting better. We could tell he was still in pain, but it was still amazing to see Coach E at tryouts and to know that he was still thinking about us and doing his best to get back to being our coach," said junior varsity basketball player Ryan Kilkenny.
"It probably was not the best decision [to show up to tryouts] as I was still in a lot of pain and not moving around very well at all and I am pretty sure I looked pretty sickly, but I just wanted to show up and let them know I am still here and I would be back for them. My basketball players have motivated me a lot, whether they know that or not," said Efstathiou.
Since the beginning of the school year, Efstathiou had been on medical leave, but by December Efstathiou recovery had gotten to a point where he could return to work. Although Efstathiou was ready to get back to SJHHS, he was, and still is, struggling with the pain from Neuropathy.
"I was nervous about how my body was going to react. That first day back it was nervous. Nervous like here are all these new students who don't know me, but they've heard like 'oh he's been sick.' And then coming back into basketball as seasons already started, I felt bad for my players because I felt like I hadn't been there for them in the beginning," said Efstathiou.
"I know it was really hard for [Efstathiou] and that he was very brave. . . He cares about the students and the school. And I'm just happy he was able to get back," said Kristen Osborn, US History and AP US History teacher.
After such a long break from being heavily involved in the SJHHS basketball program, Efstathiou had to focus his efforts on more than just strategy.
"When I came back (to coaching), instead of focusing on the X's and O's of basketball, I tried to build chemistry between the players and myself," said Efstathiou.
"Coach E has been really strong. All through the summer, he could only show up two or three times and he's battled hard to get back in time for season. Every day he's in pain, but he still shows up every practice and every game to support us," said varsity basketball player Phillip De Gree.
While Efstathiou may be back to teaching and coaching that doesn't mean that it's a complete return to form and that he no longer is impacted by his Neuropathy.
"I'm normally an active coach and an active teacher. I'm always walking around the class, and with coaching I usually demonstrate what I mean, but now per doctor request and per how I feel, I have to sit a lot. In games and practices, I have to sit on a stool and I use a whistle in practice cause I can't yell as loud," said Efstathiou.
While the battle with Neuropathy and all of the hardships it has brought has been immensely difficult, Efstathiou still recognizes how his fight has actually improved his life in certain ways.
"This experience taught me that people care about you, it's good to be open, and it's okay to ask for help. . . This also brought me way closer to my wife and kids. . . And it also brought me a lot closer to god, and I was already someone with faith and spirituality, but it just made me recognize it more," said Efstathiou.
At the end of last school year, Efstathiou was hesitant to even tell anybody about the pain he had been dealing with, but now Efstathiou sees how the school has rallied to support him.
"
I consider a hero someone you look up to and follow as a role model and Coach E is definitely my hero. Coach E has always taught us responsibility which I try to reincorporate into my own life and he's just a huge inspiration for everyone on the team"
— Ryan Kilkenny
"Our former principal, Principal Smalley as well as Assistant Principal Varricchio, was really supportive to me and always had my back. Some teachers here, specifically Mr. Spiers he was tremendous, he came and visited me while I was really sick. Mr. Lynde, Mr. Kaiser, and Mr. Hunnicut were really helpful and checked in on me many times. Ms. Osborn helped put together a Trader Joe's gift card where everyone pitched in to just help me and my family out with the little things," said Efstathiou.
"As a history department and H building community, we were aware of his absence. . . [We tried] to find any way to help; food, donations, visits, even trying to give our sick days to him. We respected his privacy, but we reached out in our own ways to let him know that he may not be in the building, but he was not forgotten," said AP European History and AP Psychology teacher Robert Spiers.
In regards to the basketball, not only did the athletic department help Efstathiou, but even parents and players from the basketball team have helped get through his fight with Neuropathy
"The athletic directors, Farrel Moore and Robert Frith, were very supportive and they checked in on me. . . My coaches, Coach Hudson, Coach Carido, Coach Hambrick, and Coach Vann all those guys checked on me, had my back, and made sure things ran well. . . Our sports psychology coach, Coach Mario Soto was super helpful and he was huge in helping me . . The basketball parents were just tremendous, specifically Christina Perucci and Kim Kitaen. They led a fundraiser for me back in September and that was just so nice of them to help offset some of my medical expenses," said Efstathiou.
"I consider a hero someone you look up to and follow as a role model and Coach E is definitely my hero. Coach E has always taught us responsibility which I try to reincorporate into my own life and he's just a huge inspiration for everyone on the team," said Kilkenny.
Heroes don't often get enough recognition. Coach E has suffered through crippling pain for more than a year now. He has had to spend hours in the hospital looking for a diagnosis, away from his wife and his two kids. He's gone through extensive treatments all to help reduce his chronic pain. For all Coach E has gone through, not only should we rightfully recognize him as a hero, we should also take the time to thank him for constantly fighting through his pain.
Leave a Comment
Your donation will support the student journalists of San Juan Hills High School. Your contribution will allow us to cover our annual website hosting costs.
About the Contributor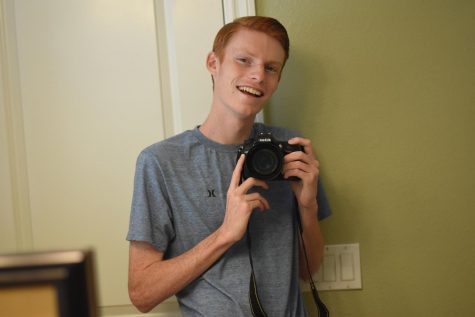 Jack O'Connor, Co-Editor-In-Chief
Jack is a senior at San Juan Hills High School. This will be his third year on The Express. He is looking forward to being Co-Editor-in-Chief this year....