History Teacher Creates Innovative Study Tool
"Buenos quesadillas," greets history teacher Robert Lynde in his A.P. European History podcast titled "Lynd€urozone," designed to give students an easy source to gain more information and study the curriculum. 
Lynde has taught A.P. European History for 12 years, and got the inspiration to start the podcast when two of his students had to miss a substantial amount of school due to illness and injury and needed to keep them up to date with the curriculum. His love for podcasts illuminated a solution, yet the answer was not always so clear. 
"It took me a little while and I had to get some nerve up to do it, but I came up with the idea of the podcast and I decided I wanted to have some fun doing it. It's been a lot of fun for me," said Lynde. 
The process started two years ago when Lynde began to write the episodes, but it was not until the summer of 2018 that the episodes were recorded and published after he learned how to go through the publication process through the help of Youtube videos. 
A typical episode consists of Lynde discussing topics and events in the A.P. European History curriculum and are released in chronological order- starting with the Renaissance and ending up in more modern day proceedings. He also has episodes in which he responds to questions that have been submitted on his website by students about the content.
"
What I liked about the podcast was that a kid could put the earbuds in and do something that was not necessarily studying. Youtube doesn't have that option."
— Lynde
Lynde decided to choose the podcast platform, instead of other content sharing tools like Youtube, because of the convenience that it offers to today's busy teenagers.  "What I liked about the podcast was that a kid could put the earbuds in and do something that was not necessarily studying," said Lynde. "They could clean their room, they could go for a run, they could walk the dog, or listen to it in their car. Youtube doesn't have that option." 
Since its release 13 months ago, the podcast has had around 32,000 downloads and has been listened to in 43 states and a multitude of countries across the globe including China, Russia, and Australia. This success has encouraged Lynde to produce more episodes, not only for his own students but for others around the world studying the A.P. European History content.
 "Once I started realizing that more people are using it than my students, I felt like people are depending on this and I better keep going," said Lynde. 
The production of the podcast not only provides Lynde's students with an easy access to study material but refines his approach to teaching in the classroom.
"I think it was helpful in that he would always speak very clearly in class and he knew great ways to explain the material to everyone," said junior Isabelle Schunk who had Lynde for A.P. European History last year. "He was great at using humor both in class and in the podcast to keep us engaged throughout the lesson". 
The goal of the podcast was to provide a complete summary of the A.P. European History curriculum, but now that the episodes are approaching events close to present day and the curriculum is almost finished, the future is uncertain. Lynde has debated going to Youtube to produce more specific videos on common student questions or study skills, but he has yet to make a final decision.
About the Writer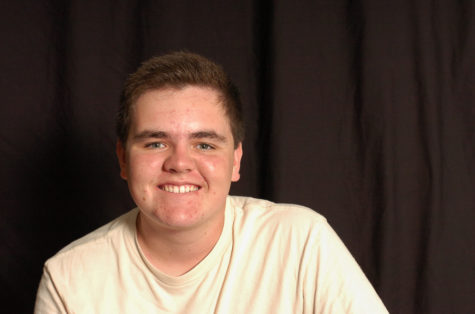 Warren Unzueta, Staff Writer
Warren Unzueta is very excited to begin his endeavor on the Express Newspaper during his junior year here at SJHHS and can not wait to see what the future...