Baseball Could See New Practice Field if Proposed Bond Makes it on Ballot
First, the proposal must be approved by the CUSD Board before voters could decide.
A new baseball practice field could be in the future for SJHHS as well as other upgrades if the school board votes to place a bond measure on the Nov. ballot and if voters approve it.
The $889 million dollar School Facilities Improvement District (SFID) bond measure would fund "critical repairs and upgrades" to most CUSD schools, including SJHHS, according to Ryan Burris, Chief Communications Officer.
A bond measure is one way to raise money to finance large projects. The money raised must be paid back, with interest by taxpayers. The type of bond under consideration is called a School Facilities Improvement District bond, or FSID bond. Sometimes school districts seek to raise funds for school improvements when Federal and state funds fall short of meeting the needs of the community.
On Aug. 10 the school board will vote on whether or not to place it on the ballot.
"If the Board votes in favor of placing a bond measure on the ballot, voters will have the opportunity to vote either "yes" or "no" on the ballot measure in November," Burris said in an email update.
Area Trustee, Jim Reardon, earlier this year supported more targeted bonds, based on an area's need. But the final version of the proposed bond measure adopted by the board is a district-wide uniform tax with a boundary excluding Rancho Mission Viejo, that Reardon views as a compromise. See his full comments here.
A practice field for baseball was always planned for SJHHS, but the existing practice field was closed because it was positioned too close to a nearby underground gas line.
The new field would not be placed in the same location, but moved to a location just east of the I Building classrooms and just to the south of Stallion Stadium, a.k.a "The Badlands." A concrete walkway would also be added.
A new field would resolve some problems about scheduling all the various baseball practices. In the past some players were bussed to other fields just so they could practice baseball.
"Without an extra practice field varsity has priority, making it difficult for the Freshman and JV to practice. They often took busses to COX park in Ladera Ranch, which cost the team both field and bus fees," said Riley Glenn, former varsity player.
"With a practice field, scheduling practice in close proximity would allow all coaches to work with players at all levels and cut costs," he said.
Relocatable classrooms have already been added and the addition of a new building is underway. The addition of the field would bring the preliminary cost estimates to around $1.8 million according to district figures.
About the Writer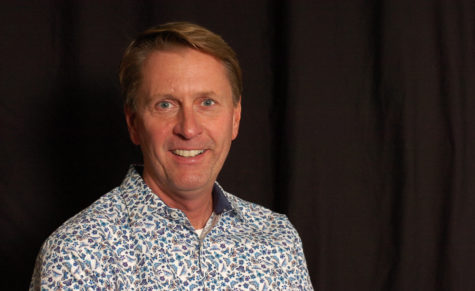 Bill Kaiser, Adviser
Mr. Kaiser is currently in his 22nd year as a media adviser in CUSD and was San Juan Hills High School's 2019 Teacher of the Year. He also teaches AP government...