Proposition 30 is Best Solution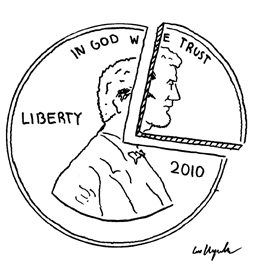 The Express Staff
November 5, 2012
A proposal on the November ballot, Proposition 30, would generate up to $5 billion to help stabilize the state budget and help fund schools by raising sales tax one quarter of a cent and raising personal income tax for 7 years on individuals earnings over $250,000 or families earning more than $500,000.
While the measure is not popular with voters who oppose any kind of tax increase, it is vital for the future of education in the state and in our district, which has already cut about $130 million from its budget since 2008.
True, in Capistrano Unified, the school year will be shortened by 10 days if Prop. 30 does not pass. The legislature has already passed a law allowing school districts to reduce their school calendar by 15 days — and this year has already been shortened by five days. Instead of getting out in June, school would end in May. That might sound good to many students who favor of a shorter school year and a longer summer. But in the long run, this would not be a good thing for high school students with plans of going to college.
A vote of NO on Prop. 30 would mean a shorter school year, but also more homework and pressure as teachers attempt to cram a full year's curriculum into shorter space of time. The timeline for AP and CST tests would move up and not at the regular time in May but much sooner. It may also mean students would have additional homework in order to cover everything before those tests. Students really do not deserve this.
In districts around the state, administrators and teachers would have to figure out how to make even more cuts to their budgets. This year SJHHS lost five days already and 15 sections of classes due to budget cuts. Class sizes increased across the board as a result. Statewide 31,000 teachers have lost their jobs in the last three years and 45,000 support staff, leaving those who remain the task of educating and meeting the needs of the same number of students. Student-to-teacher ratios in California are 30% higher than the national average, according to John Mockler, an educational consultant cited by Steve Lopez in a recent LA Times column.
After graduation most students at SJHHS will go on to community or four-year colleges. With additional cuts to education funding if Prop. 30 fails, community colleges would offer fewer courses, making it harder to get classes and graduate sooner. UC and Cal State colleges will face $250 million in midyear cuts which will lead to higher tuition fees. UC officials predict at 20% tuition hike, or about $2,400 a year per student. Cal State will have to boost tuition an additional 5% on top of the 9% fee increases already added. If Prop. 30 passes Cal State will rebate the 9% and drop other fee increases, according to officials in the Cal State system.
Tax increases are never popular, especially in this economy. But without proper and affordable education, California's economy will suffer in the long run. Helping California's ability to fund education and positively impact the lives of Californians is what Prop 30 is intended to do and why The Express supports it.
To put things in perspective, the one quarter percent sales tax in Prop. 30 amounts to about $40 a year for the average consumer, or about 10 Starbucks drinks. That's a small price to pay to stop additional cuts and fee hikes in high school and college education. Can't we afford that for ourselves?