The Latest on Covid-19: Everything Stallions Need to Know
The rapid spread of the Omicron variant has fueled a surge in Covid-19 cases around the world. Here are the latest updates on Covid-19 for the Stallion community.
How quickly is Covid-19 spreading in California?
California is facing a record-smashing surge. Following winter break gatherings and travels, Covid-19 cases – especially of the Omicron variant – have spiked as everyone returns back to school and jobs. According to the Los Angeles Times, as of Jan. 11th, more than 6 million coronavirus cases have been reported in California. Given the rapidly increasing rate of daily infections, there's a probable chance that at least one person in a classroom of 30 students has COVID-19.
Good news. While the amount of new Covid-19 and Omicron cases continues to rise each day, the consequences aren't as catastrophic as they were at the initial start of the pandemic during 2020. Fortunately, experts are developing a better understanding of the transmission of the virus and vaccines are effectively helping millions of people across the nation.
How effective have the measures taken against pandemic been in California?
California has been one of the most proactive states in the country throughout this ongoing fight against Covid-19. According to the CDC, 82% of California's population that is eligible for vaccination have at least one dose of a Covid-19 vaccine and 73.1% are fully vaccinated, not including the booster shots that are highly recommended for ages 12+. Additionally, more than 90% of people living in California are thirty minutes or less away from a Covid-19 testing facility. More specific measures and plans for the future are outlined in California Governor Gavin Newsom's announcement.
What does this mean for SJHHS at the moment?
For many, continuing to come  to school can seem risky, especially for young children who cannot get vaccinated. When students came back to school following winter break, "43% of California's six million students had not returned to school by [Jan. 4]," according to data provided by Gov. Newsom's office. Newsom has reiterated his commitment to keeping in-person instruction going for as long as it is safe, and this commitment has consequently affected legislation, evident in the provision of Covid tests to students.
"The state is also redoubling our efforts to keep kids safe and keep schools open. We will help prevent the spread of COVID-19 in our communities by making at-home testing kits available to every K-12 public school student as they head back to the classroom from winter break," said Newsom, in a statement. There was a significant increase in absences due to the surge in cases, but there were no reports of school closures in Capistrano Unified. 
Will we be able to receive free Covid tests?
Prior to winter break, Newsom announced that every public K-12 school in California will receive at-home Covid test kids to provide for all students before coming back in January. The California Department of Public Health distributed nearly 2 million tests to schools in compliance with Newsom. The CDPH is working with local education sites and healthcare partners in order to distribute the tests in an effective manner. 
The Covid tests were part of efforts to protect California in a preventative way, and accompanied requirements for healthcare workers to get a booster dose. Delays in shipments prevented this from actually happening before the return back to campus, so the immediate days following the end of winter break brought no testing kits for students. Within the month of January, two Covid tests were provided to each student who showed their student identification.
How have absences/illnesses improved since the return from Christmas break?
Following winter break, Capistrano Unified was significantly impacted by staffing shortages as a result of the Omicron-driven rise in COVID-19 cases and the insufficient number of substitute employees necessary to cover all anticipated absences. Between Jan. 3 and Jan.12 the district needed to fill 2,064 substitute teaching assignments, an average of 258 per day for 8 working days, resulting in 22% of all absences being unfilled, according to a board report prepared for Trustees. At the start of February, conditions and attendance have improved.
So, will Covid-19 ever end?
Many medics say that by Feb. or March the surge should slow down and things might start returning to (somewhat) normal like they were during the second half of 2020. Regarding worries about the pandemic's resurgence, President Joe Biden said that this may be the "new normal." Although we are all more than ready to return back to the normal we know, it is extremely important to do your best in keeping yourself and others as safe as possible.
Leave a Comment
Your donation will support the student journalists of San Juan Hills High School. Your contribution will allow us to cover our annual website hosting costs.
About the Writer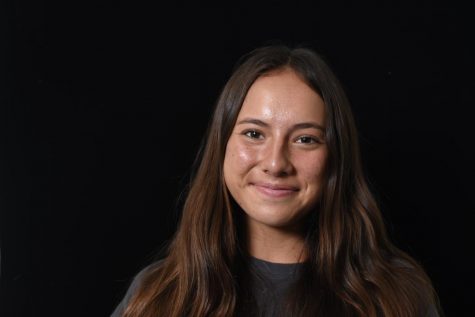 Sydney Wolfe, Staff Writer
Sydney is a junior at San Juan Hills entering her second year in The Express. When Sydney isn't working or playing tennis, you will most likely find...