Coach Arrested for Contact and Communication with a Minor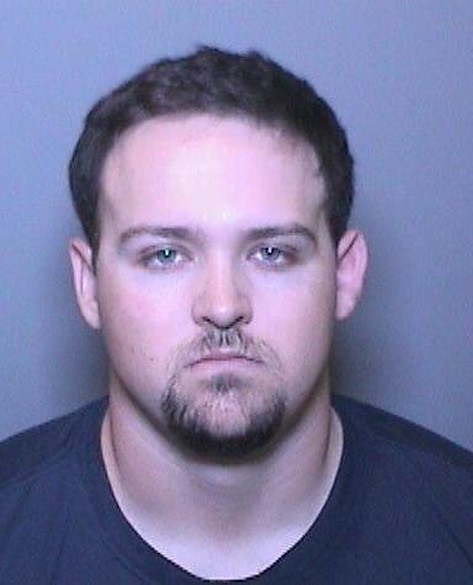 Assistant Offensive Line Coach, Cole Austin Cazel, was arrested Oct. 30 for inappropriate contact with students, including requests for child pornography, according to an Orange County Sheriff's Department (OCSD) press release. 
Cazel graduated from SJHHS in 2015 and coached football at the school for four years. According to the Sheriff's Department, he was officially charged with contact and communication with a minor. 
Under California Penal Code §288.3 "It is a crime to: contact or communicate with a minor (or attempt to do so); knowing that the person is a minor; with the intent to commit one of the offenses on a list of California sex crimes and other serious felonies involving that minor." 
"Due to Cazel having continued access and contact with minors over the past four years, investigators believe there may be additional victims," said the Sheriff's Department press release.
The news release also encouraged anyone with information about additional victims or with information they believe may assist in the investigation to contact the OC Sheriffs at (714) 647-7419. Anonymous tips can be submitted at occrimestoppers.org
According to students on the team, Cazel used Snapchat to communicate with players and allegedly solicited photos or videos from them, offering to buy supplements or protein powder, in exchange for the pictures or video. Snapchat messages delete as soon as they are read by the receiver and it notifies the messenger when a chat is saved.
"
He's been my coach for three years and was my brother's coach for four years, so it's weird hearing that he was doing these things to other people,"
— SJHHS Football Player
Cazel allegedly sent inappropriate photos to students and requests for videos with specific, explicit instructions of what he wanted to see, according to players interviewed by The Express.
Some incidents allegedly occurred during on-campus weight lifting sessions that were held outside of school hours with the coach. "He would always be taking videos of us and we don't know who he would send them to," said a player.
During these sessions, Cazel had very sexual conversations with players and made suggestive comments about a main, unnamed victim.
The victim said Cazel would even sometimes follow him to the bathroom when he left weightlifting sessions. 
According to the player, Cazel also made strange bets with him. It started off by asking the student to lift a certain amount of weight and once he did that, the player was given $150. A second bet followed that dared the student to send an inappropriate video in exchange for money, a movie, and supplements.
The main victim was allegedly subject to physical harassment in weight lifting sessions and many sexual comments were made towards him. Cazel would also constantly talk maliciously about the victim's girlfriend. 
Many incidents happened at school, yet some players were allegedly invited to spend the night at Cazel's house as well. "He told [players] 'come over to my house. I'll buy you drinks and we'll have a good time,'" said a player. "[Cazel] did ask a student to come over [to his house] and drink in celebration," said a second source. 
"
He told [players] 'come over to my house. I'll buy you drinks and we'll have a good time,"
— SJHHS Football Player
Players claim to have found out about the inappropriate behavior of the coach at different times. Some say they have known since 2017. Others claim to have only known for a few months.
Head Varsity Football Coach, Robert Frith, started coaching at SJHHS after Cazel was hired. When SJHHS administration was notified of the situation, it was handled immediately and Cazel was removed from his position.
The Sheriff's Department said they were contacted by an anonymous source. This led to an investigation that included interviewing players and contacting their families.
Playing on the football team is a large time commitment so players develop close relationships with their coaches.
"He's been my coach for three years and was my brother's coach for four years, so it's weird hearing that he was doing these things to other people," said a player. 
Since his arrest, Cazel has been released on a $100,000 bond. If defendants in criminal cases cannot post bond they have to remain in jail. Judges set the bond in proportion to how serious the crime is and whether they think the defendant is a flight risk.
"
this is not a reflection of the whole program. All the other coaches are great,"
— SJHHS Football Player
"It's weird knowing that he just paid money and he's already out for something that is pretty messed up," said a player. "I expected him to be in jail a lot longer," said another. 
There is yet to be a preliminary hearing, as the investigation is still ongoing. This case will either go to trial or will end with a plea deal.
"Most of these cases are settled through a process called plea bargaining. A plea bargain results from a deal struck by the defendant's lawyer and a prosecutor to the effect that a defendant will plead guilty to a lesser crime (or fewer crimes) in exchange for a state not prosecuting that defendant for a more serious or additional crime," wrote George C. Edwards III, author of Government in America: People, Politics, and Policy.
"Despite the drama of some highly publicized trials, trials are in fact relatively rare. About 90% of all criminal cases nationally begin and end with a guilty plea," wrote Edwards.
"Throughout my freshman year until my junior year, I could always tell he was a little weird and that something was off," said a player. 
Another player never had strange feelings about Cazel until after he found out his behavior. "It sucks… because this is not a reflection of the whole program. All the other coaches are great," he said. 
On the day of Cazel's arrest, Principal, Jeniffer Smalley, said in an email to Stallion families, "The investigation resulted in the removal of one of the coaching staff. I ask for your cooperation and understanding that this is an ongoing investigation and more specifics cannot be shared at this time."
The OCSD has no knowledge of an upcoming court date because the investigation is still open.