Welcoming San Clemente's Newest Coffee Shop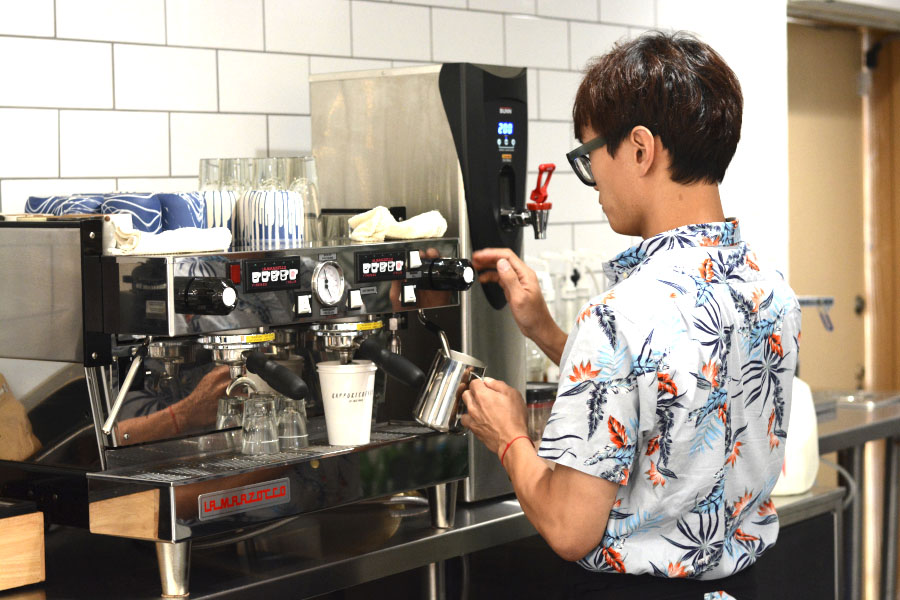 It's every coffee lover's dream.
At first, it appears to be like any old coffee shop: conventional, glass doors, up-to-date. Upon entry, however, guests are astonished with the liveliness that the simple and open design provide.
The interior is well lit and open, making it a great place to study or hang out with friends. The seating itself is very comfortable and cozy. Each table is decorated with little succulents settled in coffee beans.
Rapport Coffee by Cafe Smith is a new coffee shop in San Clemente that has been open for roughly six weeks. As you walk across the parking lot, the first and most noticeable decoration are and the words "Rapport" on the outer white brick wall. Right away, the shop radiates a welcoming and warming atmosphere.
In the very back of the little cafe is a wall of aesthetic photos. They look as if they were professionally done, however, they were actually all taken by one of the managers.
Some of his photos are from Brazil and others from San Francisco. The rest, he explained, were from a variety of destinations all around the world. They also offer a line of wetsuits that are, according to the managers, put up for sale by one of their customers.
The barista station is wide open and customers are able to see all of the coffee being made.
One of the managers said, "we want to increase our space for the customers so we are going to remodel the coffee bar. That way, it will be easier for us to communicate with them." 
As for service, every single manager greets you upon entry, they are very attentive and let the customer know that they are here to help you decide what you would like according to your preferred taste. 
"
If you don't like, say, acidic coffee we want to make it less acidic. If you're a really skilled barista, you personalize your coffees for each customer."
— Dave
Currently there are only four managers working at Rapport: Dave, Gary, Chris, and Jay. All are welcoming and attentive to their customers.
Rapport Coffee is open Monday through Friday from 6am to 6pm and Saturday from 6am to 4pm. Sundays, however, are reserved for roasting beans.
Unlike many other coffee shops such as Starbucks Coffee, Peet's Coffee, and The Coffee Bean– Rapport Coffee roasts their beans fresh in store every Sunday. Each coffee drink is made with great care as seen in the elegant designs created in the foam.
If your looking for great coffee both visually and flavor-wise Rapport Coffee is an excellent choice.
Question: Where does the name "Rapport" originate?
Answer: We named our shop Rapport Coffee because we want to build up our "rapport" with the customer. There are really good coffees out there, but many people have a hard time finding them, probably because of the location. That is why we here in San Clemente; we want to change how we make good coffee. We want to take advice from our customers. That is why you have to taste it. If you don't like, say, acidic coffee we want to make it less acidic. If you're a really skilled barista, you personalize your coffees for each customer.
Question: What would you say it is that makes Rapport's coffee different from others?
Answer: This is our bean from the S company, you know, Starbucks. You may see a difference between the beans, some of them are dark and some are a light brownish color. Normally, we chew the beans before we taste the beans to check the texture. We don't burn the beans. The S company's beans are burned, and when it's burned you taste nothing. That is why the roastings are important, and the matter of the roastings are important to achieve quality coffees.
Question: Where do the coffee beans come from?
Answer:  We buy beans directly from South America.
Question: How did you learn to make coffee?
Answer: There are schools, but you have to take certain courses to get a SCA (special coffee association).
Question: Does Rapport do anything special for the holidays?
Answer: Later on Christmas day, we'll have some live music sessions. We want to build rapport customers through our coffee, but also through other events, such as a performance.
Question: Has the Vape Oasis next door had any affect on your business?
Answer: Not really, no.
Our recommendations are the iced vanilla latte – their most popular order – and the affogiato, if you're looking for a treat.
About the Writers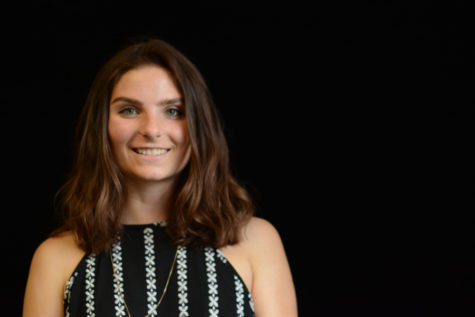 Makayla Keelin, Arts & Graphics Editor
Makayla is a senior at SJHHS and is thrilled to be returning to The Express for her third year as the Arts and Graphics Editor. Whether she is drawing,...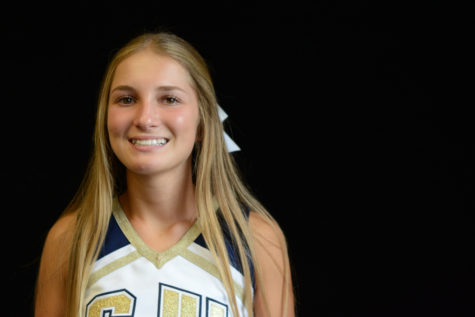 Tatum Federman, Captions & Social Media Editor
Tatum Federman is a senior at San Juan Hills. This is her first year on The Express staff, and she is the Captions and Social Media Editor. She is the...