Prom In Style
Hang on for a minute...we're trying to find some more stories you might like.
Styles have a pattern of changing through the years and repeating, also known as the Fashion Cycle. This rule also applies to prom, where girls take pictures with friends and dates and dance in elegant gowns, making memories to last a lifetime.
According to the Fashion Cycle, a trend comes up, where it is then published in magazines and other media sources for everyone, then it goes to outlet stores at much lower prices, and throughout the years different trends get repeated. Although everyone has different preferences, the different years of fashion eventually catch up to the current and are seen in the dresses prom-bound students look for and buy.
According to a clothing store called Forever 21 employee, Katherine Kabbas, "off the shoulder dresses" are in, whereas in previous years, she said, "I've seen a lot of sparkly, when before it was flower patterns."
In response to the current and repetition of fashion, David Palacios, an employee from the clothing store H&M, stated, "I'd say a lot of prints and light colors kinda going on" and that "90s are coming back."
According to multiple sources and sites, prom dresses can range from anywhere to about $7.99 on sale (Forever 21) to the average and above $100 that others will spend on. Often, these stores get last second shoppers, to the day day of prom.
Considering the vast price difference in dresses, if there is a dream dress someone wants but is out of their price range, another source for getting a prom dress is the website, renttherunway.com, where a prom bound student can rent a high end styled dress "for a fraction of the price."
In this case, the buyer would go on the website and find a dress they like, put the clothes size in the system to see the availability, and check to make sure there is an availability in shipping.
Another option for a dress out of budget, and even tuxes, are where the dates can make duct tape clothes, and even garments if they want, for prom. This is a scholarship ran by the site stuckatprom.com, where anyone can "roll out…duck tape fashion for a chance to win…over $50,000 in cash scholarship prizes."
The directions for the scholarship are to create an original and unique prom wear (using the Duck(R) brand), submit it to the site, and vote.
Whereas strapless long dresses with velvet, tool and van shoes were in 1993, now some students are wearing rompers and suits, like Sydney Tagle, who prefers to "wear nice black jeans (RVCA or Levi's), a button down shirt usually from Macy's or Nordstroms, black jacket, vans or dress shoes, and a bowtie from Macy's or Nordstroms."
In comparison to the long satin gowns in light colors, big hair, and ruffled shirts for the boys in the 80's, different parts of the fashion have been reintroduced to the current year's prom whereas the other trends may be introduced in the years to come.
Like an anonymous student said, "dresses are like m&ms, they're all different," and the different styles will continue to repeat and grow through the years.

About the Contributor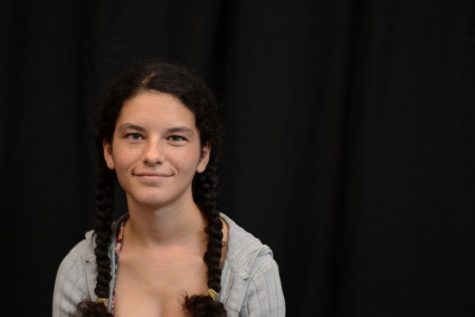 Rebekah Sterns, Staff Writer
Rebekah is a senior at SJHHS and is an avid reader, writer, photographer, and loves the outdoors (especially hiking). She has taken a liking in fashion design and took a ROP in Fashion her junior year. Occasionally, she enjoys making the outfits into a reality. Rebekah also enjoys hanging out with her friends. She is...