Shin Shines Through Adversity
Shinsanity has reached San Juan Hills.
Fan favorite Aaron Shin was given one opportunity to showcase his basketball skills in front of a deafening crowd, and he did not disappoint.
In his final home game as a senior, Shin was put into the starting lineup for the first time. In only five minutes of action, he drained two threes and scored on an electrifying move to the basket. He scored all eight of the Stallions' first quarter points.
The Stallions went on to win the game 61-50 over Dana Hills, guaranteeing them a spot in the CIF Playoffs.
"It was a huge crowd and the little kids at the halftime show told me 'I love #2' and 'You're my hero.' I teared up," said Shin. 
"
It was a huge crowd and the little kids at the halftime show told me 'I love #2' and 'You're my hero.' I teared up."
— Aaron Shin
Shin's opportunity came after not making the team his first two years of high school; during that time he served as team manager on the freshman and JV levels.
"My second year, [my coach] said I was too small, so I cried," he said.
Despite all this, Shin continued to work on his game in hopes of one day getting a chance to play at the varsity level.
"The thing I appreciate most about Aaron is his drive, his persistence. I've always looked up to him," said AJ Carrison, who has played on Shin's basketball team every year since seventh grade. "I would always see him at the basketball courts. I always see him shooting. He loves the game so much that he always practices it."
"I knew Senior Night was my one shot, so I thought 'If I stop practicing, I'm going to have a pretty bad game,' so I practice everyday, try to get a lift in, and try to keep my body fit," said Shin.
Through two additional appearances in league games, Shin has not missed a single shot. He believes his dedication has paid off and hopes that he will inspire younger basketball players.
"I was the manager for the first two years, but look at me, I scored eight points. For all those people thinking 'I can't make the team', you can make the team, just keep trying, keep practicing."
About the Writer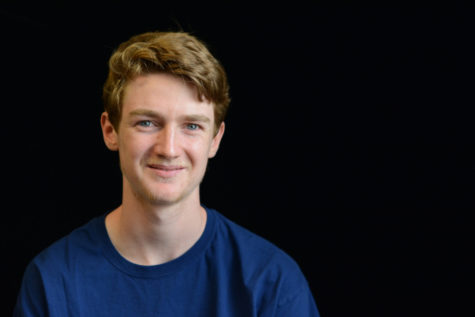 Brendan Gibson, Staff Writer
Brendan is a senior and in his second year on The Express newspaper staff. He has played on the school's basketball team since freshman year. In addition...