Les Misérables Production Breaks Records
Hang on for a minute...we're trying to find some more stories you might like.
Les Misérables made history at SJHHS by selling out all five shows. With a production this grand, many people have been involved in creating this musical and have contributed many long hours of rehearsal, construction, and preparation. 
This musical sums up the effort and talent of not only the students and staff involved with the theatre department, but also the stagecraft class, choir and musical departments.
To read more about the pit orchestra and how they added to the magic on stage, see related story. 
On the stage, the actors are immersed into the scene with all of the handcrafted and Stallion-built sets. Not only do they transport the audience to 19th century France with the rustic detailing, but they allow the actors to use them to bring their acting to life by climbing the 15-foot structures.
The actors on stage are truly challenged by this musical as it has absolutely no spoken lines — it consists entirely of singing. To prepare for their roles, many have spruced up their vocal abilities by practicing with SJHHS's vocal instructor, Mr. Ushino.
"Staying healthy is probably the biggest preparation; you have to sing healthy, practice and learn to sing healthy, and know the right techniques to keep your voice tight," said one of the lead actors, junior Zain Faruqi, who takes additional vocal lessons outside of school. "The music in Les Misérables is unbelievably hard."
Playing the role of the antagonist, Faruqi shared his unique perspective on how to approach playing such a complicated character as Inspector Javert. "If you are playing the 'bad guy' and you think of yourself as the 'bad guy,' it's not going to work. People who are bad don't think they are bad–we all think we are right," said Faruqi. "You are not doing the role justice. He is his own person with his own thoughts and beliefs and of course he is going to think what he is doing is right–and some people could argue that it is right."
This conceptually difficult dynamic of playing this character showcases how complex all of the actors' roles truly are.
The lead, Jean Valjean, is played by Jaymes Macabale, who is making his last performance on the SJHHS stage as this is his senior year. Being the main character, there is a lot at stake for Macabale's role. "It's a very challenging role with how much it demands emotionally and vocally," said Macabale.
"
Staying healthy is probably the biggest preparation; you have to sing healthy, practice and learn to sing healthy, and know the right techniques to keep your voice tight"
— Zain Faruqi
Amazingly, Macabale has only been singing for roughly two years, as he did not get into the theatre program until late sophomore year.
To keep up with the vocal demands of this musical, Macabale has a station set up right outside the stage door with his script to last minute look over lines, and also some tea and cough drops to ease his throat. He has also been making an effort to stay away from foods that would negatively affect his voice, like dairy products.
Macabale is looking forward to the show, especially being able to share the stage with his two sisters. Marydith Macabale is in the dance ensemble and his youngest sister, Maddie Macabale, plays one of the child roles. In this production, there are four children that were casted outside of the Stallion actors.
With such a big show in Jaymes's high school career, he has been sure to document them in his vlog series showing all of the behind the scenes action on his Youtube channel.
Assistant Director, junior Sierra Young, has the indispensable job of warming up the actors, getting them focused and energized and helping them get into character. Young is there to support the Director, Cambria Beilstein, and take notes during the rehearsals to help the actors improve. "Our job is to be there on the spot– in the moment helping them," said Young.
Being Set Designer as well, it helps Young in her role as Assistant Director to be an expert on each scene and what it will look like.
Young is also one of the nine Cappies critics at SJHHS. Being a Cappie, Young watches other shows produced by local high schools and votes on them for the Cappie Awards. SJHHS' production is nominated for a Cappie award and will have about 34 Cappies members coming from other schools to judge the performance.
As the Assistant Director is mainly focused on the actors, Stage Manager Olivia Price is in charge of every other aspect of the production including the lights, crew, scenes, and everything in between.
With 60 cast members and 10 principle roles, Price has a big responsibility knowing the entire musical including all of the songs, actors, crew, and sets involved in each scene. 
"It takes some time but once you see where everyone is in the ensemble, dance or vocal, you can put the pieces together," said Price. Her role has a lot of organization and communication tasks.
This isn't her first time having this role; she started assistant stage managing her freshman year and now as a junior has stage managed two SJHHS musicals. However, every other show on the SJHHS stage in Price's high school career she has been assistant stage manager. 
With so many people putting 100% effort into this production, this musical was a true representation of the talented Visual Arts department at SJHHS.  See related slideshow of the production.

About the Writer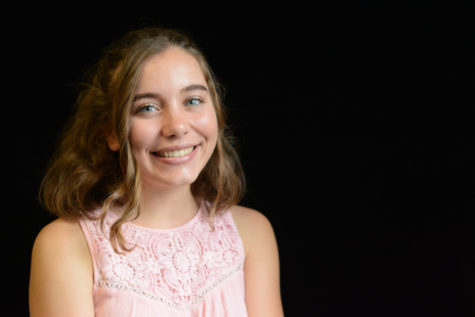 McKenzie M, A&E Editor
McKenzie is very excited for her second year on The Express. Besides her school studies, McKenzie dedicates most of her time to the ballet studio.  She...