Final Tune-Ups for Les Misérables Pit Orchestra
Hang on for a minute...we're trying to find some more stories you might like.
Though they may not be visible up on the stage, the talented pit orchestra plays a big role in creating the magic of the musicals produced at SJHHS.
Musicians in the Les Misérables pit orchestra, Anya Searle, Vincent Maldonado, and Cole Grace are proud of their participation of bringing productions of the SJHHS Drama Company to life.
"I really enjoy being in a group of more elite and dedicated musicians," said Maldonado, a senior who plays the bassoon. However, in this production of Les Misérables, he is playing the trombone. Maldonado debuted as part of the pit orchestra during his sophomore year for the production Into the Woods.
"In the pit orchestra we're working with actors, so we kind of have to alter our timing based on how they block the scene and not just the tempo," said Grace. Both Grace and Searle play the violin and debuted in the Fiddler on the Roof production last year.
"
I really enjoy being in a group of more elite and dedicated musicians"
— Vincent Maldonado
Pit orchestra is a big commitment; however, the three musicians all agree that it is worth it. Even being hidden under the stage, Searle feels as though people still recognize them as part of the production.
"I do feel really appreciated; they make us a poster production that thanks us for all the work we do. The kids in the play even give each person in the pit orchestra candy," said Searle.
Maldonado added that he didn't join pit orchestra for the appreciation. Being a part of something bigger than himself was still exhilarating.
"In every musical there are songs that are incredibly exciting to play. When it all comes together, it's a brilliant moment. We can't see what's going on onstage, but we can judge how amazing it is because we can hear the applause," said Grace.
"I love my instrument so much, and I'm always looking for more experience and situations where I get to play it," said Searle when asked about why she was compelled to join pit orchestra. She plans to continue with pit orchestra next year and through college. The pit orchestra at SJHHS will stand strong, bringing Les Misérables, all of the past and future musicals to life.

About the Writer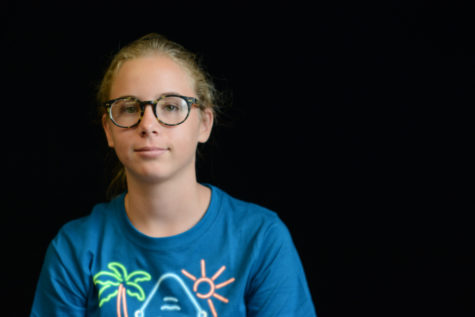 Libby Gorton, Staff Writer
Libby is a freshman at San Juan Hills. She is a great writer who also loves photography and drawing. She has lots of interests, but she enjoys writing...