Girls' Varsity Softball Makes SJHHS History in CIF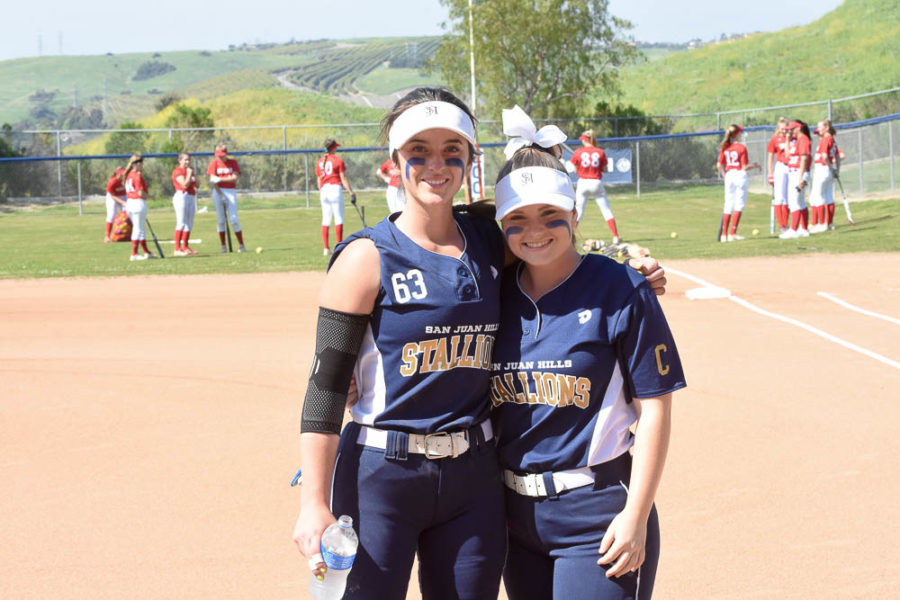 San Juan Hills High School's varsity softball team had a strong season, with an even stronger finish.
The varsity team consisted of 3 seniors: Angelica Gonzales, Jordan Parkhurst, and Phoebe Popplewell; 1 junior: Maddie Riley; 6 sophomores: Lindsey Marshall, Malaika Jakana, Maycie Thaut, Emily Freeman, Leah Carey, and Sabrina Javorsky; and 4 freshmen: Ashley Corpuz, Kaitlyn Perucchi, Natalie Gleason, and Julia Doan. The team was coached by Kevin Holguin and Brook Breig, and the team captains were two seniors, Angelica Gonzales and Phoebe Popplewell.
At this year's banquet, first baseman Lindsey Marshall, sophomore, was awarded Defensive MVP; catcher Sabrina Javorsky, sophomore, was given the Stallion Award; and pitcher Phoebe Popplewell, senior, was awarded MVP for the San Juan Hills Varsity team.
They went 17 and 8 overall, and 4 and 4 in league, ending league with a big win against Mission Viejo High School to qualify for CIF. They came back in the last inning to tie the game against Mission Viejo, and went into international tiebreaker to win 4-3.
San Juan's only losses this year were against Aliso Viejo and Dana Hills. Dana ended up winning league, going undefeated in league.
Though they did not place as high as they wished to in league, San Juan Hills went farther in CIF this year than any SJHHS team has ever gone.
Round 1 of CIF was an away game against Fountain Valley High School, who went 18 and 19, where SJHHS took a strong win, 11-1. They finished this game confidently, scoring 5 runs in the last inning to end the game. Senior, Phoebe Popplewell, struck out 5 batters in 7 innings pitched.  
Round 2 against Patriot High School, with a record of 19 and 8, was a home game, and SJHHS won 9-2. Prior to this game, Coach Brook Breig told the team, "This will not be our last game, and we do not lose on home turf." SJHHS' Varsity took what she said to heart, and though they were losing by two runs until the third inning, did not give up on the game despite their rocky start. Sabrina Javorsky, sophomore, had a big game with the most RBIs against Patriot; going 3 for 3 and 3 RBIs.
Round 3, SJHHS' final game, was another home game against Crescenta Valley High School, who had a record of 27-5. San Juan Hills lost 1-3 in a close, low-scoring game. San Juan Hills High School vs. Crescenta Valley High School was a defensively centered game, both sides fought hard to keep the other from scoring. San Juan took the lead early in the game, scoring a run in the 3rd inning, but Crescenta Valley slowly crept up behind them, scoring a run in the 4th, 5th, and 7th innings.
Their CIF journey gave the team an opportunity to grow closer than ever, and their chemistry kept them alive through so many games.
Next year's softball program is looking strong despite losing three seniors; the varsity team will have many upperclassmen: most likely one senior and at least 6 juniors will be leading the team.
About the Writer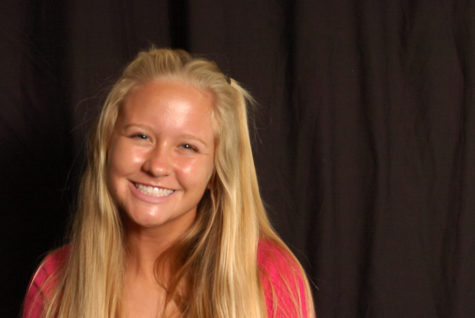 Kate Meyers, Staff Writer
Kate is a junior at SJHHS, and she could not be more excited to be news editor and start her third year on The Express! She pitches on the San Juan softball...