Stallions Commit on Signing Day
On November 15, five Stallion athletes officially signed their National Letters of Intent to continue both their academic and athletic pursuits at Division 1 colleges This is an annual tradition across the country..
Two of those athletes came from girls volleyball, with Katie Lukes going to the University of San Diego and Gabby Bellizzi moving on to UC Berkeley.

"

I worked really hard to improve as an outside hitter, and I've been continuously focusing on learning and getting better."

— Katie Lukes

.

Lukes was a four year varsity starter with plenty of accomplishments under her belt. She made 1st Team All South Coast League three times, won the South Coast League MVP twice, made the All CIF-SS Division 1 team, was named Orange County girls volleyball athlete of the week by the OC Register multiple times, made the All American 3rd team, and was ranked the 65th in the nation in her class. She also managed to thrive in her academics, as she was a four year scholar athlete.
Lukes, who verbally committed to USD as a sophomore, said, "I worked really hard to improve as an outside hitter, and I've been continuously focusing on learning and getting better."
Lukes was joined on the 1st Team All South Coast League by her teammate Bellizzi, who plans on majoring in Engineering at UC Berkeley. Bellizzi has also excelled in the classroom, as she was a four year scholar athlete. She also partook in National Honors Society and the CA Scholarship Federation.
"Practice really helped, and using the most of practice time was really important," said Bellizzi.
Another pair of teammates to sign their National Letters of Intent were Lauren Fairchild and Gracyn Houmis, who went to Concordia University and Towson University respectively.
Fairchild, who is currently playing her fourth year on varsity, has impacted SJHHS both on and off the field. She's been on the Academic Honor Roll for four years, and she's taken part in the Lion's Heart Community Service Program. She'll be majoring in Exercise Sports Science at Concordia.
Houmis is entering this season coming off an explosive junior year. Last season, she made 2nd Team All Sea View League and led the team in both RBI and home runs. She's equally talented defensively, and she was rewarded for this sophomore year with a Defensive Player of the Year award. Houmis has been the captain of the varsity team for four years, showing her leadership qualities.
The final SJHHS athlete to sign his letter of intent is Gavin Spencer, going to University of Arizona. Spencer is one of the most talented youth tennis players in the country, as he ranks in the top 10 Singles and Doubles players in Southern California according to the UTSA (United States Tennis Association). He is also ranked in the top 100 youth tennis players nationally by the Tennis Recruiting Network.
As a freshman, Spencer went undefeated in the Sea View League, finishing with a 42-0 record and winning the Sea View League Singles Individual Championship. Since 2014, he has won 14 single titles and nine doubles titles in UTSA tournaments.
Spencer is as talented intellectually as he is on the court. He's made both the superintendent's and principal's honor roll during his time at SJHHS and he has been awarded the Spirit of the Stallion award by one of his teachers.
About the Writer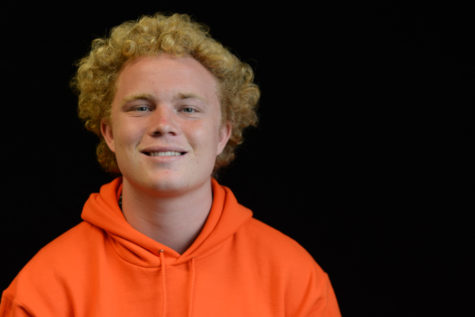 Gavin Aitken, Co-Sports Editor
Gavin Aitken is the editor of the sports section of The Express. Gavin is a senior and is in his third year of writing for The Express. He participates...