San Juan Hills vs. Buena Park Recap
San Juan Hills (7-4 overall, 2-2 South Coast League) season ended against the Buena Park Coyotes (10-1 overall, 5-0 Freeway Football League) on Friday, November 11, with a hard fought 20-7 loss.
Despite having a stronger overall record, Buena Park were the underdogs going into this game according to the MaxPreps rankings, which ranked Buena Park lower than San Juan Hills due to their weak strength of schedule. Buena Park has only faced one team rated in the top 100 teams in the state in a loss to St. Francis. San Juan Hills' record against top 100 teams is not much better, but their quantity of games is much stronger, with a 1-3 record against top 100 teams in the state.
Offensive Line coach Charles Briggs said, "That was our purpose… playing tougher teams in preparation for the CIF bracket."
Buena Park also did not have great history with the South Coast League in the CIF prior to this game, with their postseason run last year ending in defeat to the San Clemente Tritons in the semifinals in humiliating fashion, losing 63-34.
However, San Juan Hills had to travel to Buena Park this game, where the Coyotes are so far undefeated this season. Buena Park had averaged a 32.5 margin of victory in their four games at home, and their fans got another victory Friday night.
"They were a really tough team. They had a lot of Division I caliber players. " said junior Morgan Derifield
Buena Park had relied on the throwing game much more than their running game this season, with two thirds of their total yardage coming from passing plays.
Buena Park's star player in the showdown against the Stallions was senior quarterback James Rafkin, who threw for 200 yards and 3 touchdowns. He was also able to amass 52 rushing yards and 18 receiving yards, totaling 270 yards of total offense.
Running back Jamiel Henning had a quiet night by his standards, running for 74 yards on 11 carries with no touchdowns.
The Stallions can look back on this season with some pride despite the loss. Highlights of their season include a nail biting 20-7 overtime win against Great Oak and a 17-14 win against rivals Tesoro.
San Juan Hills made it to CIF through a wild card spot for a second season in a row. Their season has been a transitional period after the departure of Patrick O'Brien. Quarterbacks Doug Jackson and Matthew Rodriguez both had good seasons, and both will be hoping to build on this experience next year.
For many seniors on the team, this was their final chance on advancing past the first round of CIF after two years of early exits.
"Every year you come to the playoffs, you build that experience," said Coach Briggs. "It's the length of the season is really the challenge."
Buena Park will move on to play Edison Friday, November 18.
About the Writer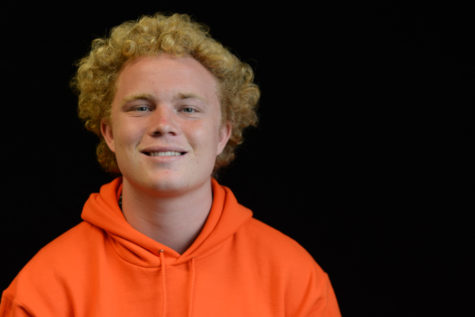 Gavin Aitken, Co-Sports Editor
Gavin Aitken is the editor of the sports section of The Express. Gavin is a senior and is in his third year of writing for The Express. He participates...