SJHHS Girl's Volleyball Spotlight: Lukes and Mercer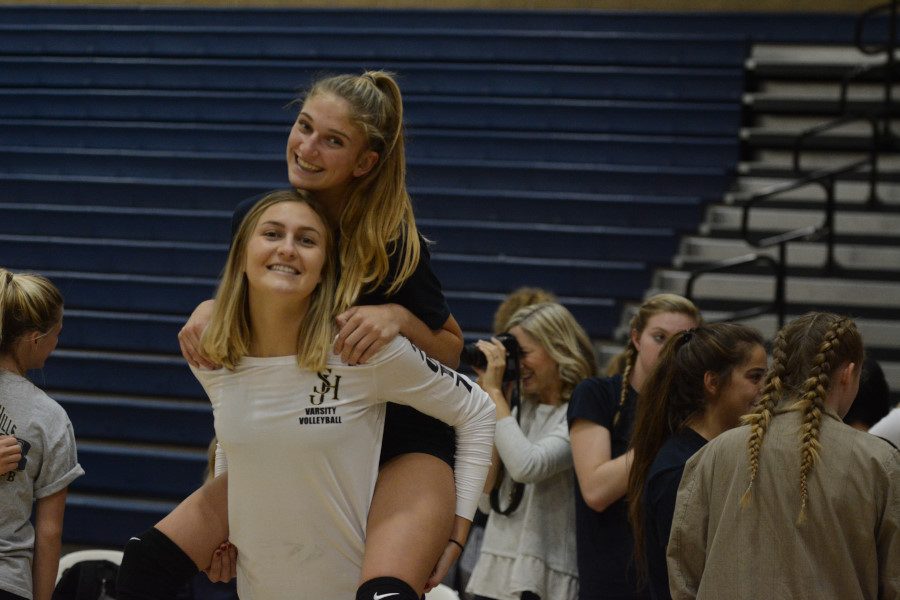 SJHHS girl's volleyball team, previously ranked number 11 in the nation, shockingly lost in their first round of CIF on November 2, proving disappointing for players and fans alike.  However, the talent of the players still remains precedent, for two stars shine even as the success of the season begins to dim.
Over the past two years, senior Madilyn Mercer and junior Katie Lukes have established their dominance as SJHHS's top dynamic duo, with 536 kills and 102 blocks combined this season.  Both girls committed to Division 1 colleges as of this year as well, building up SJHHS' repertoire of successful student athletes.  
Mercer will play at California Polytechnic State University: San Luis Obispo, where she will enter as one out of the two incoming freshmen on the team, despite the setback of not being able to play sophomore year with a shoulder injury.  
"A good thing that college coaches look at is body language, and I've always been someone to not show my frustrations during the games and is always supportive.  I knew that was a thing they would look at–how I presented myself and playing everywhere. I think just being a versatile player with a good attitude is what really helped me [be appealing]," said Mercer.
Lukes committed to play at University of San Diego after high school graduation in 2018, confirming in June of this year.
"All the girls were the most welcoming at USD, and I just felt really comfortable there.  I'm really excited because they're a high-intensity volleyball team.  I just feel like it's going to be really fun because of the team and the coaches and the location and everything," said Lukes.
Each girl has a different role and have contributed unique talents to the team, with Madi being more than just a talented blocker and Katie much more than an "ace" at digs.
"I'm not afraid to go for every ball, as a middle, and it's kind of rare to find that.  So, I'll set Katie or whomever, I pass this, pass that, serve, receive, and just be another person there who's just willing to be there for the team," said Mercer, who, in addition to contributing on the court, always "lightens the mood".
However, the college experience can easily feel nerve-wracking, for everything is new and strange to a high school student.  
Commenting on anticipating college next year, Mercer said, "It honestly kind of scares me–college.  I feel like I'm just going to go in, and they'll be like 'why can't you run 3,000 miles?' and I'll be like,  'I don't know, I just can't!'.  But I'm still excited for the whole experience really because I know my team will be super supportive.  It's intimidating at first, but I know it will be really fun."
For now, the girls are focusing on being the best teammates and friends they can possibly be for each together in the short time remaining.
"[Our relationship] is just super fun because we're just super close.  Sometime we'll just nod at each or give each other bro hugs or make these weird noises like Mr. Ahmer, and we just have a lot of inside jokes on and off the court," said Lukes.  "We can trust each other; if the other team is getting a run on us, we'll just look at each other and we're like 'we got this.'"
The pattern that often occurs in girls sports team revolve around drama and a struggle with the alpha players and starters.  However, in SJHHS's volleyball team, the top girls tend to be leaders rather than commanders, for the girls like Madi and Katie are highly spoken of and looked up to.
Freshman Casi Newman, a newbie to the team, instantly gravitated towards Lukes and Mercer and said, "I love them like sisters, and I would do anything for them.  They have both been such great mentors to me because I see them work so hard for what they want, and they are such great players."
And there's no doubt that their connection with the team–and each other–is inseparable.  Both girls' numbers (15 and 16) are even right next to each other in numerical order, illustrating how their bond and chemistry on and off the court has really helped the team succeed the past couple of years.
"We've won league both times that we've started together, and this year we went undefeated. So that's really cool to say.  Even though we're going to go to college in different places, that'll always be a part of our friendship because we did that together and with our team," said Lukes.
While the girls are in different grades and will no longer be able to play together again, distance will not change their relationship or their ability to kick butt.
About the Writer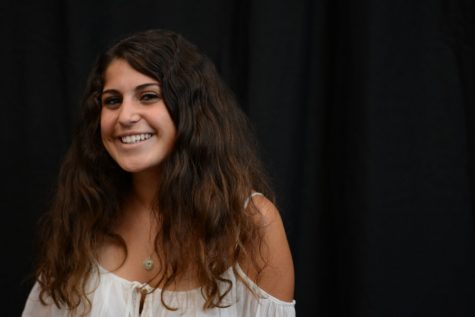 Mia N. Jones, Sports Editor
This is Mia's second year on The Express, and she is beyond excited to be a part of such a fun program her senior year! Mia plays on the Varsity lacrosse...