Girls Water Polo Splashes Back With New Players
Last year, the Girls Water Polo team lacked in numbers and strength, consisting of less than ten girls. This deficiency in players resulted in minimum time-outs for the hard-working players and repeated losses for the entire team.
This year the team has reached its largest number capacity in years, consisting of thirty-seven. Team members range in grade from freshmen to seniors and in experience levels.
"This is the largest team we've seen so I'm excited to see the outcome," said Alexis Espinosa (12).
"This is my first year playing polo and I've met so many people since. As a team, we definitely need some work, but all in all, we are going to be great this year," said Sienna Fanizza (12).
Like Fanizza, there are many inexperienced players who are just being introduced to the sport, while others have remained with the team since the very beginning.
"This year we've seen many new girls and we are really focusing on working hard each practice in order to win as many games as we can," said Mia Satterwhite (12).
Seniors Taylor Haumea, Espinosa, and Satterwhite have dedicated all four years of their high school experience on the water polo team. They have seen the team evolve over the years and have worked ruthlessly in order to ensure the success of their team and school.
"I am so excited for the upcoming season and my last year of high school, especially now that our team has tripled in size. This is the first year we've seen all levels of Girls Water Polo," said Taylor Haumea (12).
Preseason games included two tournaments, and won three games out of five in each one.
On Dec. 11, Varsity lost their first league game against Laguna Hills High School with a score of 11-14 but head coach, Daniel Newberry is optimistic about the season ahead.
"This will be a great year because now we have numbers. Last year we didn't even have twenty girls, but this year we have over forty," said Coach Daniel Newberry, who is proud of his new team.
December proved to be a difficult time for the team, experiencing loss after loss. However that cold month of winter did not stop our girls from fighting hard or erase their determination at all. To this day, they continue to train for the next match, surpassing multiple challenges along the way.
On Jan. 13, Varsity played against our school rival, Capistrano Valley High, and ended with a score of 7-22.
With each game, despite the outcome, has proven a learning experience for each member of the team. New strategies and more practice is issued and put towards achieving future victory. To get a single point in any sport takes strength, cooperation, dedication and teamwork from all members. To win or lose doesn't matter in long run, what matters is the friends and memories one has made over the years. And throughout this semester, girls water polo has truly become an inseparable family.
About the Writer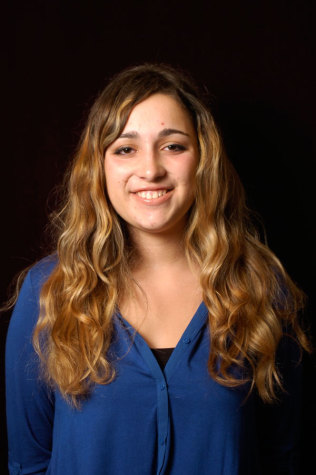 Brandi Ortiz, Fiction Editor
Brandi Ortiz has always been an intense reader, allowing the worlds of fact and fiction to envelope her heart and mind. She very much enjoys reading, writing,...