Girls Golf Team Rewrites Stallion History
Armed with three seniors, a junior, two sophomores and a freshman, the SJHHS girls golf team has returned for their most impressive season in the history of our young school. The girls won the Sea View League Championship last Thursday in a close match against Aliso Niguel High School and completed their season with an overall 9-3 record.
The Lady Stallions won a narrow victory by breaking the 225 to 225 tie by going to the sixth player, freshman Makenna Kjellberg, who scored a 47 edging out her opponent by seven strokes. With the Sea View League Championship in hand, the girls team qualified for CIF for the second year in a row and will compete next Thursday at the Costa Mesa Country Club.
Julianne Meursing and Tatyana Arciniega have been the top players for the past couple years and Caroline Miranda has always turned in solid scores. Their leadership helped reset the SJHHS girls golf all time low team score of 213.
Haley Heesch, a junior playing in her second year on the Varsity team also related to how the seniors have served as role models for her. "I look up to all the seniors equally. Julianne, Caroline, and Tatyana are all major role models in the game," says Heesch.
Head Varsity Coach Jim Tinker says, "It's been a fantastic season . . . the girls have worked extremely hard and it's paying with quality play." He is incredibly proud of his golfers for working extra hard, putting in extra time, and maintaining strong attitudes. "They really have a passion for the game. Just seeing that passion has been my greatest reward," says Coach Tinker.
Coach Tinker shared some of his coaching techniques that have proven to be effective for his golfers in past and present seasons. He explained that he uses a lot of visualization techniques so the girls can envision a solid swing, the path of the ball flight, and the line of the putts.
He also stressed the importance of getting the girls to relax and feel comfortable when they play. Every golfer knows by rule of thumb that when stress and anxiety permeates the mindset of the player, focus blurs and scores skyrocket (for those of you who are not so golf savvy, low scores are the goal of the sport).
About the Writer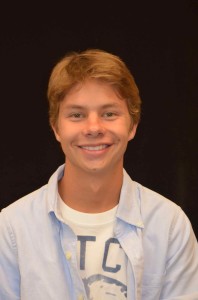 Shane Battis, Staff Writer
I am currently a Senior at San Juan Hills High School. In addition to working as a reporter for the school newspaper, I am also a member of the Golf Team,...