A Ranking of Every Girl Scout Cookie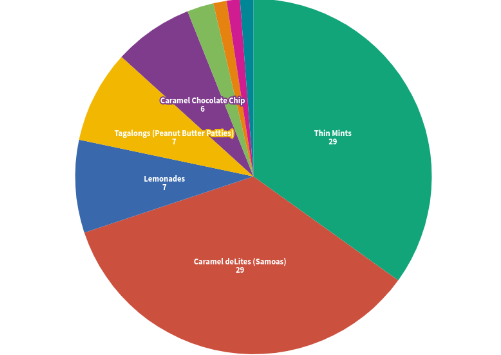 Every year, the February season generates a frenzy for the nostalgic taste of Girl Scout Cookies. Once those green tablecloths arrive at the supermarket, it can be hard not to contribute to the spurring business. What was once thought to be a small way to support local Girl Scouts has become a race for high schoolers to get the best flavors.
From Thin Mints to Caramel deLites, nearly every student has a favorite, but not every cookie is created equal. In a recent poll, The Express asked SJHHS students to choose their favorite cookies. 
The top-selling cookies are Thin Mints, Caramel deLites, Tagalongs/Peanut Butter Patties, Lemonades and Caramel Chocolate Chip. Personally, I have very strong opinions on the Girl Scout cookie selection. Taking into consideration students' favorite cookies, here are my rankings of every Girl Scout cookie, from worst to first: 
13. Toffee-Tastic
These cookies lack everything: flavor, looks, sweetness, texture, ect. They're even boring to look at. The cookie is described by The Girl Scouts of the USA as "rich, buttery cookies with sweet, crunchy toffee bits", however I disagree with their description. Although a great option for gluten-free fans, these sugar cookies are dry, bland, and uninspiring. With zero votes from students and an F grade from me, this flavor comes last in the ranking.
12. Trefoils
One thing I appreciate about this flavor is its clever history. Inspired by the original Girl Scout cookie recipe, Trefoils are made of simple, crispy shortbread. But without knowing the history, the average customer would find them boring. Plain shortbread, without some sort of icing, isn't notable.
11. Caramel Chocolate Chip
Props for the gluten-free option, but there must be a better tasting cookie that still follows dietary restrictions. In my opinion, a classic chocolate chip cookie can never be beat by extravagant flavors. However, these cookies remain weak and dull compared to other options. Step it up!
10. Lemon-Ups
Unlike the previous cookies, Lemon-Ups have a taste that sticks. The combination of crisp lemon-flavor and inspirational messaging allows for a unique tasting experience. Messages include, "I am a leader," "I am an innovator," and "I am a risk taker." This is a creative quality that conveys the Girl Scout's message of leadership and innovation. However, their artificial taste puts them low on the list. To me, the lemon-y flavor resembles that of cleaning supplies.
9. S'mores
This is where the ranking becomes difficult. I can't think of a person who doesn't enjoy the beloved campfire side taste of s'mores, and these cookies deliver. I love the fluffy flavor of the marshmallow filling, along with the combination of graham cracker and chocolate. Despite this, I think this cookie fails to encapsulate the complete magic of a toasted s'more (although that is hard to emulate).
8. Toast-Yay!
Toast-Yay!'s were a satisfying surprise. The cute toast shape, along with the maple-y flavor, reminds me of Cinnamon Toast Crunch cereal. The addition of the cinnamon and maple-flavored glaze evokes the essence of Sunday morning breakfast. I've noticed that it's extremely hard to stop eating these cookies.
7. Raspberry Rally
With the addition of a new cookie flavor every year, the introduction of Raspberry Rally for 2023 created lots of hype. When freezing these cookies ahead of time (like their minty counterpart), the flavor is undeniably elevated. However, the raspberry flavor doesn't compliment the chocolate layer, lacking the perfection of the OG Thin Mint.
6. Adventurefuls
Probably the most underrated cookie in our poll, Adventurefuls are truly incredible. Last year's cookie has a base of brownie, topped with caramel-flavored creme. They're the perfect size for something sweet when the craving hits. It's also a great cookie to look at – probably the best-looking cookie on the market.
5. Do-si-dos/Peanut Butter Sandwich
Peanut butter is the key to getting a high rank on this list. Do-si-dos rival the beloved Nutter Butter. Like the Nutter Butter, the outer cookie sandwich is amazing, but the addition of the peanut butter filling makes these cookies truly irresistible. However, according to the poll, students would much rather go for the unshakable Peanut Butter Patties.
4. Lemonades
If you happen to hoard a box of Girl Scout cookies into the summertime, Lemonades are the go-to box to grab. Undoubtedly the most refreshing cookie on this list, Lemonades are probably the sweetest cookie on the market. The lemon-y shortbread is enough to give these cookies an A, but to then add the tangy icing makes the dessert the best lemon cookie out there.
3. Thin Mints
This is the most controversial decision I've ever had to make since the top three flavors are perfect versions of themselves. Thin Mints are no exception – these cookies are literally perfect. They've been the #1 best-selling Girl Scout cookie for decades. Every Thin Mint buyer participates in the popular trend of freezing the cookies before consumption, and it definitely delivers. One comment on our poll says "FROZEN THIN MINTS 4 EVER." Differing from the devoted fan base at SJHHS, I can't help but feel like I'm eating toothpaste.
2. Caramel deLites/Samoas
There's always been dispute on what the true name of these cookies is, but what is not debatable is their incredible flavor. The texture is unbeatable, with flaky wafer cookies, crunchy coconut and a drizzle of chocolate, these cookies become more of a lifestyle. I didn't know so many qualities could be in a one-ounce cookie: chewy, flaky, crispy, salty. I ate half the box when test-tasting them to write this.
1. Peanut Butter Patties
I can't help but feel that the students made a crucial mistake ranking Peanut Butter Patties in third place. Biting into this cookie is an adventure. First is the chocolate layer, then you hit the creamy peanut butter filling, and finally is the crispy cookie in the center. Chocolate and peanut butter have to be the best combination of flavors, and the Girl Scout's made a perfect rendition, making this the best cookie.
Leave a Comment
Your donation will support the student journalists of San Juan Hills High School. Your contribution will allow us to cover our annual website hosting costs.
About the Contributor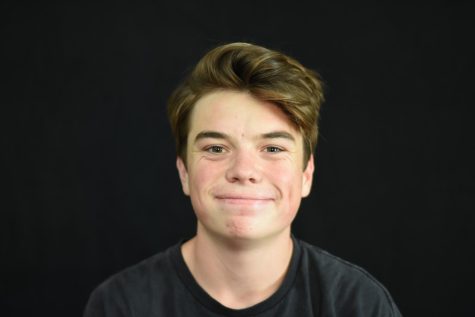 Blake Davenport, Copy Editor
Blake is a copy editor for The Express Newspaper, and this is his first year writing for the paper. He enjoys writing, reading, illustrating, surfing,...