In the Digital Age, Generation Z Changes The Economy For The Better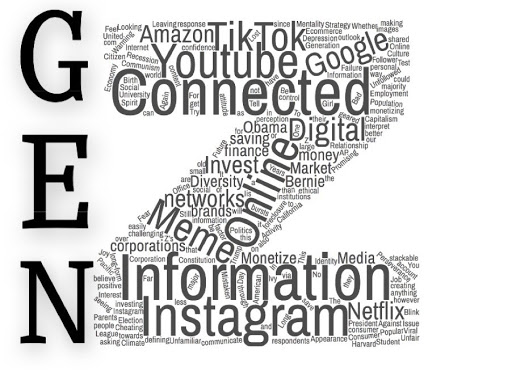 After watching their Gen X parents lose 45% of their net worth during the Great Recession and seeing Millennials drown in massive amounts of student debt, Generation Z is learning from the mistakes of previous generations as they enter the modern economy with a mindset cultivated for success.
In the past Millennial students have opted to take out student loans to pay for their education. Following graduation, as one is entering their prime earning years, Millennials have had little to no capital to invest into equities like the stock market. This inability to invest is causing their financial freedom to be handicapped.
As a result of this problem the generation born after the Millennials, Gen Z, born from 1995 to 2010, have shied away from taking on enormous amounts of student debt. 40% of Millennials have taken out student loans while only 11% of Gen Z has stated that they would use student loans. Overall, Gen Z has come to understand that taking out student loans can put a huge burden on their short and long term financial future. 
The Gen Z students that do attend college have shown to be more financially aware when choosing a major. Compared to Gen X, the amount of engineering majors has doubled to %28. Education majors however, have shrunk to just 6% while 12% of Gen X graduates majored in education.
"
Gen Z is creating a world that they have control over"
Gen Z's shift away from the traditional educational mindset comes for two reasons. One of which is that Gen Z is the first generation born into a world connected by the internet.
The internet allows for our society to be connected in an intimate way that it never had been before. Therefore a college degree will never have the same value as a commodity when individuals can create identities for themselves on the internet.
For example 18-years old youTube sensation Biaheza has made a career buying, growing, and selling Instagram accounts. One was sold for as high as $10,000. Now that does not mean that it is that easy for everyone to net 6-figure sums from the internet. However, it demonstrates sources of self-employment and ways of making money provided by the internet. Anyone can monetize the internet if they have the drive. Gen Z has learned that and used it to their advantage in their early years of earning.
The internet also exposes one to a constant, almost unlimited supply of information. Its presence has led Gen Z to be truth seekers in every aspect of their lives. Consumer decisions are no exception. The age of information has created a culture of frugality and thought that goes into spending, which leads into the second reason as to why Gen Z's economic ideals have shifted.
The burst of the housing bubble in 2008, which brought the whole economy down with it, has had a significant impact on Gen Z. While the recession is somewhat of a distant memory for many on the younger side of the generation, Gen Z saw their parents lose jobs, undergo foreclosure on their homes, and suffer great economic losses during this financial meltdown. This has resulted in Gen Z becoming more economically aware than its predecessors. In fact, 84% of Gen Z say that if they were given $500 they would save it instead of spending. 
One could interpret this attitude as a lack of consumer confidence among young people. There is, however, a more positive way of seeing it. Gen Z is creating a world that they have control over. Whether they are monetizing a famous Tik-Tok account or investing and saving their money as early as 16 years old, Gen Z is not asking anyone for anything. Their perception of money and knowledge they have prepared Gen Z to change the world for the better.