Recent Sexual Misconduct Allegations Reveal the True Culture of the Workplace
Hang on for a minute...we're trying to find some more stories you might like.
In the past three months, countless powerful public figures have been accused of sexual assault, the majority of them being men. Allegations range from inappropriate messages to sexual advances and even rape. Dozens of women are coming forward with claims in all sectors of society, including business, politics, and entertainment. Hundreds of men are using their power to sexually harass women, manipulating and pressuring them into keeping silent.
Survivors are being silenced and pushed aside by society, told not to speak up about their experiences. At the beginning of October, many women started publicly speaking up against powerful men who have assaulted them on a national stage, finally bringing this pressing issue into light. This gives women all over the country who have experienced sexual assault a platform to speak out and ensure their abuser faces consequences.
This wave of women speaking out started with actresses Ashley Judd, Asia Argento, Mira Sorvino, and Rosanna Arquette speaking out against movie producer and predator Harvey Weinstein. Weinstein has since been accused by over 25 women, including Cara Delevingne and Angelina Jolie. He has been accused of inappropriate and unwelcome groping, exposing himself, masturbating in front of women, and even raping several colleagues in the entertainment industry. By committing these acts he created an unsafe work environment for the women working with and under him. He's perpetuated a culture in the entertainment industry where sexual harassment is considered normal and even okay.
Perhaps one of the most shocking cases is that of Matt Lauer, a tenured journalist for NBC. He is often been regarded as the face of the "Today" show and was  een by the public as a charismatic and wholesome father and husband. Recent allegations portray a completely different image behind the scenes.  According to many different accounts Lauer did not distinguish a difference between the workplace and the bedroom, and constantly made lewd comments to his female colleagues about their appearances, both verbally and over text There have also been accusations of him  summoning multiple women  into his office and sexually harassing them.
The management at NBC has been accused of protecting Lauer and even condoning his inappropriate behavior. Allowing a predator to work for them endangered their female employees.
The list of survivors doesn't only include women. Kevin Spacey, actor on the television show House of Cards, is accused of sexually harassing dozens of men and sexual misconduct with a minor. Actor Anthony Rapp said he was just 14 when Spacey, 26 at the time, made unwanted and inappropriate advances against him. Spacey took to twitter to defend himself against the allegations and used the opportunity to come out as gay. By using such an inopportune time, Spacey helped propagate some of the most harmful stereotypes about homosexuality in a  sorry attempt to distract the media from his allegations. He was rightfully fired from the show House of Cards.
The abusers also are not always men. Timothy Heller, former friend of Melanie Martinez, tweeted on December 4 the story of her relationship with the pop star. She describes Martinez pressuring her to let her grope her and have sex with her, despite her obvious resistance. Martinez wasn't phased, and continued to molest her, perform oral sex on her, and even penetrate her with a sex toy. This was all without Heller's consent.
For decades powerful men in entertainment have abused their influence to manipulate women into actions that make them uncomfortable.
Many politicians have also been accused of sexual misconduct and even rape, one of which is sitting in the oval office. Donald Trump, leader of the free world, has been accused of sexual misconduct by over 15 women. This isn't surprising given the infamous "grab them by the pussy" tape where he describes groping female colleagues without their consent. He was accused while he was on the campaign trail, but it never went to trial. Instead of facing the consequences for his actions like he should have, he was elected president of the United States. The American people electing an accused sexual predator is a horrendous injustice, and the president should face punishment.
A predator is a predator, no matter what their political power is. Kevin Spacey played the president on House of Cards, and the fact that our fake "president" is receiving greater punishment for sexual misconduct than our real one is disgusting.
Even senator Al Franken is  accused by six different women of forcibly kissing and groping them. A picture was released of Franken groping Leeann Tweeden, a radio broadcaster and model, as well as an article she wrote about her experiences with him. Franken resigned, and his resignation speech was unapologetic. He never admitted he had done anything wrong, despite the many allegations against him.
The former USA Olympic gymnastic team doctor has recently pleaded guilty to molesting seven young girls. He as also been accused by over 130 women of various levels of sexual assault. Some of these women include gold medalists Gabby Douglas and McKayla Maroney. The girls testified that they were molested while seeking treatment for sports-related injuries.. Their parents were often unknowing in the next room.
He is expected to face at least 25 years in prison, and will be sentenced on  January 12. However, not all men are receiving the same consequences for their actions. Hundreds of predators walk free, not reprimanded for the pain they have caused and the lives that have damaged.
Rape is not a new problem. This is a systemic problem that has been plaguing our nation for centuries. Platforms like the #metoo movement have just recently created a space for survivors to share their stories, and women are continuing to accuse high profile men from business to entertainment of being habitual predators. These women are breaking the silence and bringing this long-standing issue into light.  

About the Writer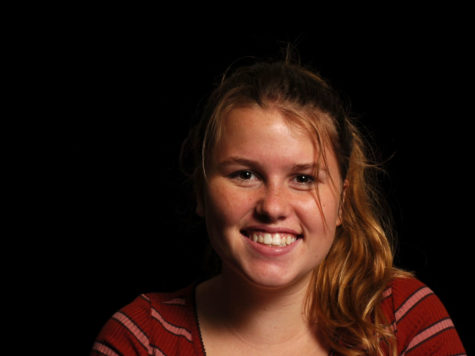 Grace Aitken, Staff Writer