Online PE: A Walking Contradiction
Hang on for a minute...we're trying to find some more stories you might like.
California requires 400 minutes of physical education every ten days, but an idea for an online option to fulfill this requirement was introduced at a CUSD school board meeting on March 15.
The PE curriculum offered at high schools, like SJHHS, is structured to include a wide variety of activities. Students learn and take part in team sports, rhythm and dance, individual and dual sports, aquatics, mechanics of the body movement, and effects of physical activity upon dynamic health. All these would be very difficult to accomplish alone without expert guidance.
How could someone accomplish all of this on a computer?
Unlike Independent PE, where individuals must meet strict requirements based on their specific sport, under the new proposal for online PE, someone could be sitting on the couch, eating potato chips, getting their "physical activity" for the week with a click of a computer mouse.
87% of the students in the school district are in the Healthy Fitness Zone, according to results from the mandatory Physical Fitness Test of the 9 graders from the year of 2015-16. Who would administer these tests in an online course?
With the removal of PE classes at the school comes the removal of the PE teachers. The lack of students taking the actual class will remove the available positions of the teachers.
Kelly Hambrick, a passionate PE teacher, has been instructing students at SJHHS for ten years.  "It's emotional when people are saying what I do for a living is not really valuable and should be replaced by a computer," said Hambrick. "This is what I care about, what I enjoy doing every day, and then all of a sudden this proposal is made out of nowhere."
"
Reading, writing, and mathematical skills [are] really important in life, but if you're not healthy, none of this matters"
— Kelly Hambrick
Southern California is a beautiful place and many students take advantage of this and try to get outside and take part in physical activity as often as possible. Luckily, our school has a plethora of options, including sports like soccer, baseball, surfing, tennis, football, and even dance and yoga.  However, there are the exceptions of those who are not involved in any of these and this is why there is a requirement of at least two years of PE in high school to keep athletically fit.
"Being healthy is a lifestyle," said Hambrick. "Reading, writing, and mathematical skills [are] really important in life, but if you're not healthy, none of this matters."
As young adults, life get busier and busier. The extra flexibility of taking an online class is beneficial to students who want to take as many classes as possible. Students have addressed these concerns and wish to take the online course to loosen up their schedule.
Taking online PE seems like it would be a good resort for this, but in reality, this ends up hurting the students, for they won't have the opportunity to be physically active.
However, there are other options students can take. It is required by the state to take the Physical Fitness Test in grade 9, but if one passes it, sophomores have the option to postpone their PE class for up to two years to allow that extra flexibility.
Also, if students are very active outside of school, they could always talk to their guidance counselor to see if they qualify for the Independent PE program. This will give an extra period to take more classes that spark personal interests.
PE has been a part of high school requirements for ages– for a reason.
"It is really important that we don't ask students to sit at a desk from eight to three, and then go home and sit down to do their homework, and then go sit down and do their online PE," believes Hambrick. "Kids need to be moving, sweating, getting their heart rate up, and be doing that in their learning environment."

About the Photographer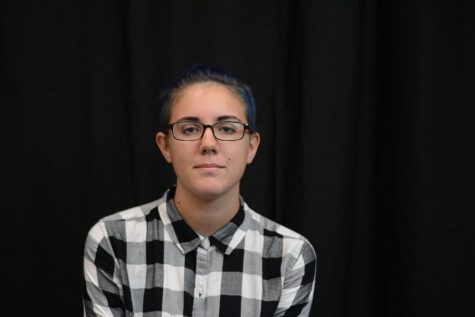 Kayla Greer, Staff Writer
Kayla Greer is a sophomore student at SJHHS, and a contributor to The Express newspaper. She enjoys drawing and writing, as well as singing. Kayla tends to hold a strong stance on many subjects related to LGBTQ+ rights and hopes to raise awareness in her community about such topics. In the future, she'd like to...