Ins and Outs of In-n-Out
Hang on for a minute...we're trying to find some more stories you might like.
Thousands of people each week head to In-n-Out Burger to get a quick, quality-made burger. I myself was not one of these people until I began to work there.

I never really cared for the long lines, the limited menu, and what seemed to be fake customer service with a forced smile. After I was hired and began training, I saw how each of these three things were no longer an issue for me.

The first thing I noticed was how quick and efficient every single person who worked there was. Each worker is focused on the job at hand, and not preoccupied with anything else. Cooks do their best to make sure that each burger makes it to the customer on time and in the exact way they ordered it. Fry Cooks are trained to anticipate customers arrival so that the fries can be ready as soon as the burger is done cooking and the customer can enjoy hot fries and a fresh burger.

The menu at In-n-Out has not changed for years, and there is a good reason for that. In the training videos we watch as new hired employees, it explains how since the first store opened in Baldwin Park, California they have practiced quality over quantity.

Every In-n-Out only uses food on a two day basis. A shipment comes in with just enough fresh food to last for two days. No early preparation is done to the food unless it will be eaten in the next few hours. Potatoes are peeled on an hourly basis to keep the food from sitting idle and cold. This means that every single ingredient in the store is as fresh as it possibly can be.

If In-n-Out were to expand its menu, this quality would be much more difficult to maintain, and the taste would not be the same. If we receive a shipment of ingredients that does not meet our standard for quality, all In-n-Out associates have been told to dispose of it and use the next freshest and highest quality product.

After I had been working for a few months, I thought back to when In-n-Out's customer service seemed fake and forced. Now I can honestly say that all In-n-Out employees are all genuinely happy and determined to provide the customer with the best fast food experience.

Because of how well I am treated as an In-n-Out associate, it makes me feel entitled to give the customer a great experience. Each paycheck we receive has the same mantra from the company owner,

"

This paycheck is made possible by the customer"

— Lynsi (In-n-Out CEO)

 No other fast food restaurant holds the customer to as high of a regard as In-n-Out and the customer service because of this motto instilled in its employees.

In the ten months I have been employed, I have gained an affinity for In-n-Out that I never thought would happen. And I can say that if you are looking for a fast food restaurant with great quality, In-n-Out Burger is your best bet.
About the Writer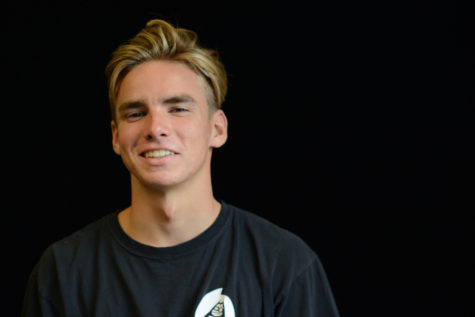 Ethan Clarke, Staff Writer
Ethan Clarke is a senior at SJHHS and this is his second year on the newspaper team. Ethan loves to surf and skateboard in his free time as well as listen...