School Safety Explained After Bomb Threat
SMART team assessed threat level and determined it as non-credible.
Sheriff's deputies and four teams of dogs combed the campus looking for any signs of a bomb as students, unaware of the bomb threat, settled into their morning routines.
At 5:08 am on Thursday, Dec. 6, 2022, various SJHHS teachers and administrators received a threatening email that accused teachers who discuss sexuality in schools of being "child abusers," and targeted English teacher and Queer Alliance club advisor Flint.
The email, obtained by The Express through a public records request, claimed to have "placed multiple pipe bombs" in Flint's classroom and home, locations on school campus, and the home of former Superintendent Kristen Vital.
"When I got to my classroom a student was waiting outside and told me there was a police officer in my room. When I opened my door there was an officer there who told me that the threat had been received overnight. I did not personally receive the threat, as my email was not publically available at that time because I had been receiving death threats," said Flint. 
Last year, Flint received national news attention for hosting a book that allegedly contained explicit material in their student accessible LGBTQ+ themed book collection. Articles posted on the New York Post and Fox News websites criticized the library's content. Parents who both opposed and supported the existence of the library were vocal at recent board meetings and on social media.
By 8:27 a.m Principal Manoj Mahindrakar sent out emails to staff notifying them that the threat was not of significant concern because details included in the email were incorrect and similar threats had been made nationwide. However, an investigation would still be underway.
Because of the threat, CUSD safety protocols went into effect including the use of the School Mobile Assessment Resource Team. Darrin Jindra, Administrator on Special Assignment, explained CUSD's safety protocols to The Express from start to finish.
Each high school has a school resource officer on duty during school time, as well as the South Orange County SMART team, which consists of investigators, sheriff's deputies and a psychologist who is available on an as-needed basis. They investigate any instances of school threats or violence, he said.
"
The threat boiled down to sort of a 'swatting' call
— Darrin Jindra
In the event of an emergency, the Emergency Operation Center will take action, with 30 hotlines and an array of accessible language translators. In case of loss of electricity, the building contains radio centers that communicate directly with two radios located on each school site. The EOC also keeps track of important information for each school site. 
If the center becomes inaccessible because of fire or earthquake, there is a mobile EOC with copies of all necessary plans and maps that can be deployed to any location.
The EOC consists of four main branches.  The Command Center includes the Incident Commander (highest ranking employee on scene). This could be the superintendent, school administrator or a teacher along with other incident commanders from other agencies like law enforcement, fire authority or the city Managers, according to Jindra.
The Operations branch consists of team members that carry out the orders given by the Command Center.  This includes safety and security measures for the entire incident.  The Logistics branch consists of team members that manage and supply the equipment needed to carry out the operation.  The Planning Team plans and provides information for what is to come as the incident moves along.
These teams follow the National Incident Manage System (NIMS), which provides guidance for all levels of governmental and non-governmental organizations in America on how to respond to incidents. NIMS follows the Incident Command System which regulates the language used when communicating during incidents to keep everyone on the same page. 
Additionally, the Comprehensive School Threat Assessment Guidelines (CSTAG) provide a model for schools to use in conducting threat assessments. These guidelines help determine whether a threat is transient (non-credible) or substantive (credible). Counselors and school administration are trained in CSTAG guidelines.
This structure was applied to the bomb threat SJHHS received on Dec. 6. The SMART team and Principal Manoj Mahindrakar followed CSTAG guidelines in determining the threat was transient.
Still, Jindra issued a team of three investigators, the sergeant of the SMART team, and four bomb-sniffing dogs to search the campus for confirmation.
"We swept the general areas to see if there were any alerts as a precaution. We had already deemed it transient at that time because time had already gone by," said Jindra.
"
We acknowledge the nature of the unsubstantiated threats may impact the feeling of safety for all employees, especially our LGBTQ+ community. This is not condoned or tolerated.
— Kirsten Vital Brulte
"My classes began and they removed my students from my room and put me in another teacher's room while my room was surveyed by bomb sniffing dogs. We came back when the dogs didn't find anything. We were only in another teacher's classroom for maybe half an hour," said Flint.
Former Superintendent Kirsten Vital Brulte issued a statement eight days after the event.
"We acknowledge the nature of the unsubstantiated threats may impact the feeling of safety for all employees, especially our LGBTQ+ community. This is not condoned or tolerated… We value the right to free speech, but just as we teach our young people, engaging in thoughtful discourse and respecting differences of opinion is the appropriate way to build consensus and find common ground. Unfortunately, not everyone chooses to follow this approach," said Vital Brulte in the email.
Leave a Comment
Your donation will support the student journalists of San Juan Hills High School. Your contribution will allow us to cover our annual website hosting costs.
About the Writer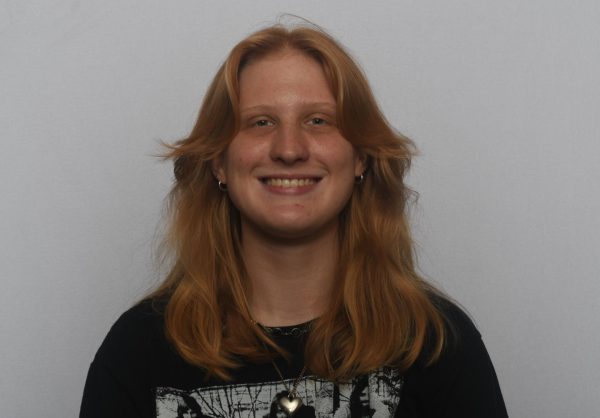 Celeste Cariker, Co Editor-in-Chief
Celeste Cariker is a senior at San Juan Hills and is eager for her second year on The Express staff. This year Celeste is excited to see how she can help...