UCI DIRHA and BRIDGES Host Second Annual Unity Week
In an effort to fight discrimination and welcome diversity, SJHHS hosted the first ever Unity Week February, 2020. Evidently, the circumstances of this year have threatened its 2021 opening, but despite these complications, Unity Week was presented virtually, as the lockdown serves as no exception to combat discrimination. 
Hosted by UCI DIRHA (Diversity, Inclusion & Racial Healing High School Ambassador Program), and BRIDGES, Unity Week 2020 was a huge success, where students lined up outside the theatre conference room as guest speakers discussed diversity, discrimination; and most importantly, the value of unity. Some teachers were even offering extra credit for attending, nonetheless adding to the mass of students who wanted to take part in it.
With that in mind, the popularity of Unity Week among students was evident, and the plans for Unity Week 2021 would've probably included a change in location to accumulate these demands.
Fortunately yet unfortunately, the issue of "space" wasn't a problem this year, rather the question of whether Unity Week would be organized at all was more than prevalent. Luckily, the rumor of Unity Week being cancelled was quickly debunked by Fernanda Villalba, set coordinator of BRIDGES and Spanish teacher at SJHHS.
"It was virtual. This allowed for some more access and opportunities, so we are hoping that more students can participate and benefit from this fun and beneficial school event," said Ms. Villalba.  
"
We noticed- as teachers- and heard from students that the campus might feel divided when we were here physically, so we want to make sure everyone on campus is a part of campus. "Ride For The Brand" is for everyone."
— Sanchez
The event took place February 22-26th, and was, for the second year hosted by UCI DIRHA, and the BRIDGES task force. As a week-long event, each day was dedicated to a specific topic, following the same categories as last year with the contrast of different guest speakers.  
Monday, February 22nd, served as the first day of Unity Week, creating discussion on political UNITY. Guest speakers from WAVE (Women for American Value and Ethics) including Judith Lukomski, Andree Smalls and Suad Elias discussed a political overview, facing peer pressure and "finding your voice" in politics.
"With any pressure that's out there, you have the ability to create and establish greater civility and empathy by being a great listener and allowing someone else to have an opinion just as you're seeking to have your opinion," said Andree Smalls, guest speaker from WAVE.
The presentation also incorporated an interactive poll for both presenters and attendees, including the question, 'Lately, have you been concerned on the political division in our country/community/school?' where 88% of participants at the seminar- majority students- said 88% on yes, they are concerned.
Senior students Ella Villar (co president of Young Democrats Club) and Siena Chacon (president of Young Republicans Club) concluded the seminar with a review on the importance of learning information for oneself and getting involved in political organizations. Senior student Isabella Zuniga added to the deliberation on behalf of furthering one's voice and allowing oneself to branch out from what their family may believe.
Tuesday took up the conversation of Race/Racism, where OC Human Relations Coordinator Gagandeep Kaur educated students and faculty on the racial history of Orange County. Kaur told the story of Francisco Torres, and his lynching in Santa Ana during 1892- which encouraged the discussion of mob mentality and the idea of these horrific acts taking place so close to the community.
A video was also shared regarding the recent events of racial discrimination in Ladera Ranch, a close community to San Juan Hills, where video footage showed teenage kids continuously harassing the home of an Asian family. 
"What many of us don't know is that there's so much history just in our neighborhoods, that really go into- more and more- about some of the things that are happening even right now," said Gagandeep Kaur, member of OC Human Relations.
The seminar concluded with a collection of Action steps that students can take to combat racial discrimination including "Taking Accountability" and "Saying Something."
Wednesday spoke on behalf of immigration, where Dr. Mahindrakar (Principal at SJHHS), Mr. Spiers (Teacher), and Mrs. Carmen Stout(Bilingual Community Liaison and Teacher) told personal stories of their backgrounds, immigration experience and advice.
"
From whatever ethnic/religious background, from whatever culture you are from, don't lose your culture, hang onto your culture, celebrate it, enjoy it- the music, the traditions, the stories- from your parents, your grandparents, your aunts, your uncles, y'know- that's who you are"
— Mr.Spiers
"From whatever ethnic/religious background, from whatever culture you are from, don't lose your culture, hang onto your culture, celebrate it, enjoy it- the music, the traditions, the stories- from your parents, your grandparents, your aunts, your uncles, y'know- that's who you are," said Spiers, SJHHS teacher as well as first generation Irish Immigrant.
The presentation also included a graphic of states with the most immigrants, where California occupied the most international-born population at 27%. Moreover, the separation that many immigrant families face- whether by choice or not- was discussed, informing students to be mindful of the challenges fellow classmates may be going through.
"Most of them are dealing with these hardships, and they didn't decide that for themselves but they're trying their hardest," said Ms.Sanchez, Spanish teacher and BRIDGES/Unity Week coordinator.
The seminar also spoke on behalf of commonly used- and often harmful and inaccurate- immigrant terminology; and the difference between an "illegal" vs. "undocumented" citizen. 
Thursday included a variety of guest speakers, who covered the topic of Gender Diversity. Guest speakers included SJHHS faculty and students Ms. Serio, Dr. Shauna Morgan (CVHS), and the Queer Alliance Club with presentations on the LGBTQ+ Club and Saddleback Church LGBTQ support group.
"The discrimination against the LGBTQ community didn't end with the law for gay marriage, but is real in inequal laws across the country or even micro aggressions in daily life; any ignorance just comes from a lack of understanding and I find that once people are educated on the subject, they have a very different perspective," said Isabella Mahar, senior student and speaker for Unity Week.
Friday marked the last day of Unity Week, and covered Religious Diversity with a student and community panel. Coordinators arranged "Speed Faithing," which took upon the same idea of speed dating- but with religion. Attendees of the session joined breakout groups where representatives from different religions gave a 5-7 minute presentation on their faiths, beliefs, and ultimately what it means to be part of that religion. 
Representatives for Sikhi, Agnosticism, Islam, Zoroastrianism, Catholicism, and the Church of Jesus Christ of Latter-day Saints were present, ultimately creating a diverse learning experience for students. 
"I think that we made a lot of room for people to come and contribute because it was over zoom. With all the speakers it was very evident that even one person has enough to make a difference," said Sandhya Ganesan, junior member of BRIDGES and organizer of Unity Week.
In addition to these educational discussions, individuals in attendance won prizes and money, simply for participating. "We also did a raffle at the end of each seminar and passed out gift cards and prizes donated to us from UCI," said Villalba.
The importance of Unity Week's guest speakers and participants aren't without importance, but it's the people behind the scenes who deserve immense recognition.
UCI DIRHA and the BRIDGES task force are what started it all, creating and hosting the first ever Unity Week last year. UCI DIRHA and BRIDGES are organizations at SJHHS that center their efforts on promoting a diversified and safe campus environment.
These programs are arranged by Ms. Villalba, Ms. Sanchez, and Mr. Sotelo- teachers at SJHHS as well as the main orchestrators behind Unity Week. 
"We noticed- as teachers- and heard from students that the campus might feel divided when we were here physically, so we want to make sure everyone on campus is a part of campus. "Ride For The Brand" is for everyone," said Ms. Sanchez, Spanish teacher and organizer behind BRIDGES.
Also as part of Unity Week, "Virtual Backgrounds" were introduced, where students and teachers could participate in the event with the displays of Unity Week themed backdrops. 
"In collaboration with Mrs. Arman, she had her advanced art class create a virtual background for zoom. We also had several of the BRIDGES and DIRHA students create virtual backgrounds so we can share with the teachers and students who utilized them during the week to showcase their unity for Unity Week," said Mr. Sotelo, academic advisor as well as coordinator of BRIDGES. 
In this period of lockdown and uncertainty, it's events like Unity Week that remind individuals that we are far from alone; being surrounded by an accepting and united community.
Leave a Comment
Your donation will support the student journalists of San Juan Hills High School. Your contribution will allow us to cover our annual website hosting costs.
About the Contributor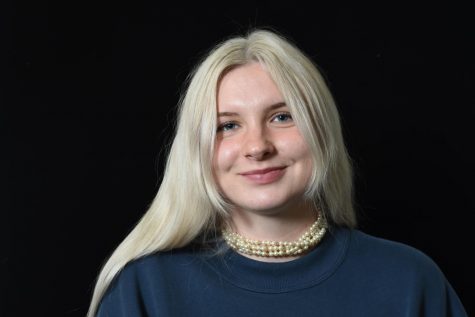 Eva Smedeby, Staff Writer
This is Eva Smedeby's senior year in high school as well as her fourth year writing for The Express. She is excited to be part of the newspaper staff...