ASB Plans for Creativity and Safety in New Events
With a delayed football season, online school, and no dances, students had to adapt to the pandemic's effect on school and their social lives. ASB is no exception. 
The usual activities of Homecoming, the Back to School Dance, Clash of the Classes, and pep rallies have either been postponed or cancelled altogether. "I don't foresee any other restrictions that are currently in place lifting to allow us to have any type of a normal school year," says ASB Director, Brooke Valderrama. "The first semester we were just holding on, but we are in second semester and we can't just keep waiting by, seeing if it's going to get better, we have to plan stuff now."
First semester activities normally include Homecoming, football games, halftime shows, and other pep rallies starting off the year. ASB was optimistic for the second semester because they hoped that restrictions would be lifted and they could get back to planning events like normal. Unfortunately, there has not been a significant enough change in the pandemic to get back to experiencing a normal year.
Now with a better understanding of the restrictions and guidelines for the school year, ASB has taken it upon themselves to plan socially-distant, safe events so the students get to feel like they still had somewhat of an eventful year. "We don't know where football is at this point, but we decided that we want to commemorate some type of homecoming," said Valderrama.
Obviously there can not be a normal homecoming with a football game, halftime show, and dance, but ASB is planning to do something anyway to still celebrate the event. "We're in the process of planning right now, some type of cool night time drive through," said Valderrama. "Almost like a pep rally and halftime show combined. We'll have lots of lighting and backdrops and have dance perform and cheer perform. We'll have some sort of court and crowing of the king and queen and just kind of make it a fun, super energetic, loud, in your face type of event."
Creativity has been ASB's crutch this year, because socially distant events are hard to think of. "Clash of the Classes is one our our biggest events, and it was kind of essential to do something as big as we can to commemorate that," said Valderrama.
Clash of the Classes will still involve the class videos, and dress up days, and competitions, but they will have to be done virtually because of the hybrid schedule. Some competitions will be in-person for the students who attend in-person school, but a majority of it will be done online. "We have to reinvent the wheel and make it as exciting and as fun as we can," said Valderrama.
ASB's most popular events for current students are the dances, pep rallies, and lunch activities, but they also had to reorganize second semester events geared towards incoming eighth graders. 
"
What May is going to look like, I have no idea, but we've talked about the possibility of having a dinner show in the stadium on the football field."
— Valderrama
Stallion Showcase is an event that takes place every February that includes presentations, tours, and booths showcasing everything SJHHS has to offer. Unfortunately, Stallion Showcase will have to look different this year. 
"We are kind of doing more highlight videos. Calder has a highlight dance video as opposed to having them perform live. Same with choir," said Valderrama. "We will have a piece to highlight overall VAPA, which we had last year. We will have two speakers speak on behalf of athletics. Throw in highlights of our football games last year, and that will be our presentation part."
"There will also be a flipgrid piece to it. All of the coaches are going to create a quick flipgrid video– same with academics," said Valderrama.
The seniors unfortunately took the biggest hit this year not getting to experience their last football season, winter formal, and prom. ASB and school administration understand that there needs to be something for the seniors, so there are a couple other activities and events specifically for the class.
"Yard signs are coming," said Valderrama. "There will be some sort of drive through with the seniors and have teachers out their cheering for them and some sort of 'senior pack' with a tassel, some other little trinkets and things that make them feel special and let them know that we love them."
Last year's lockdown cancelled the prom, but most seniors were accepting of it because there was the thought of just going to prom the next year. Clearly that can't happen. "What May is going to look like, I have no idea, but we've talked about the possibility of having a dinner show in the stadium on the football field," said Valderrama. "We'll have everyone dress up, and have tables with linens, and nice catered dinner. We'd have a real nice and awesome dinner potentially in our stadium and have some sort of show– hypnotist, or getting a comedian to come."
An unconventional year calls for unconventional activities. Luckily, ASB has been able to adapt and overcome this troubling year, and plan events to still get the students involved. Whether that is a drive through homecoming, or an online Stallion Showcase, a pandemic won't stop ASB from doing what they do best… riding for the brand!
About the Writer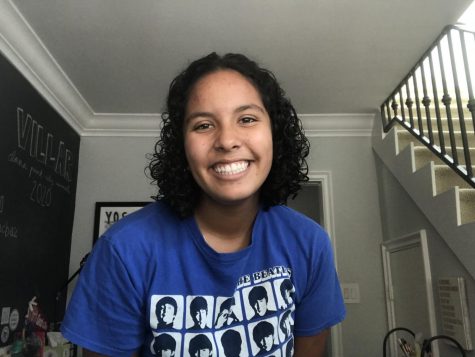 Ella Villar, Co-Editor-In-Chief
Ella Villar is a currently a senior and has been a member of The Express for three years now. As one of the Co-Editors-in-Chief, she intends to recognize...