What Super Tuesday Results Mean for 2020
All results are accurate as of press time, yet delegate counts may change as more votes are counted.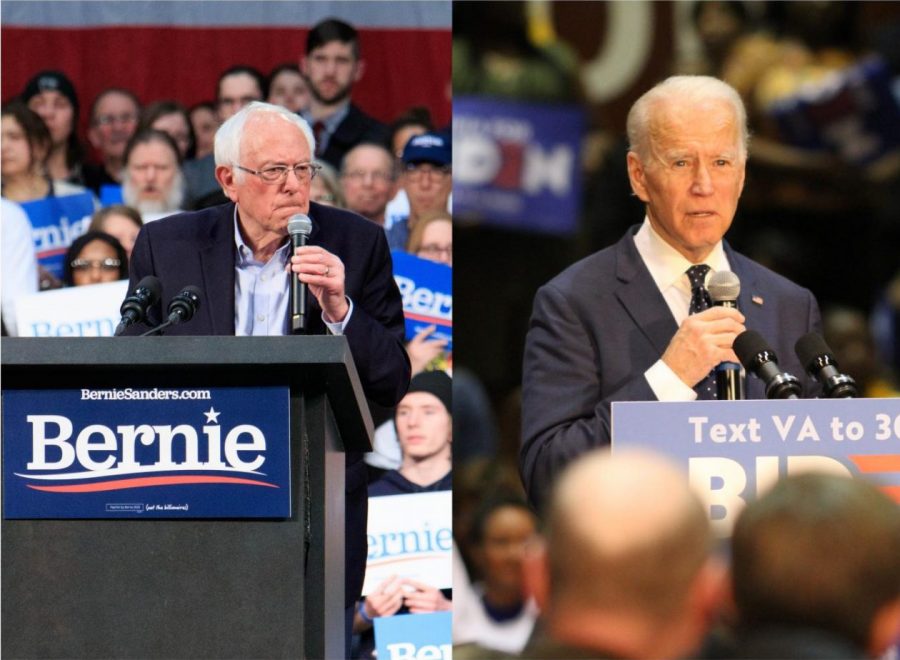 Super Tuesday has narrowed the field down to two candidates, Senator Bernie Sanders and Vice President Joe Biden. 
Biden has been awarded a total of 596 delegates while Sanders has 531. It is important to note that votes are still being counted and delegates are still being allocated in many states. California, Utah, and Colorado, three states Sanders won, still have a total of 189 delegates to allocate so the gap between Biden and Sanders is likely to shrink in the coming days. 
Sanders was expected to dominate on Super Tuesday up until a few days before the vote. This quickly changed when the other moderate candidates coalesced behind Biden after his substantial victory in South Carolina. 
Klobuchar and Buttigieg were polling at approximately a combined 15%. Biden was able to absorb their supporters leading him to dominate in the South and pull off shock victories in Maine and Massachusetts.
"I decided to vote for Joe Biden because Pete Buttigieg dropped out and said that we should vote for Biden," said anonymous SJHHS student.
This was evident in exit polling. Among those who said they decided in the last few days, Biden received 47% support while Sanders only took 17%. Voters who said they decided earlier than that supported Sanders at 33% and Biden at 29%.
While the moderates were able to combine forces, the progressive lane was unable to do so in time. Sanders lost states like Massachusetts, Maine, and Texas by small margins while Warren received an average of 16% in those three states.
Another problem for Sanders was relatively low youth turnout. Sanders dominated the under 30 vote with 58% support and just 17% for Biden. However, only 15% of voters were younger than 30, and nearly two-thirds were 45 or older, according to exit polls.
In the 2016 Democratic primary, only 18% of the electorate was 65 and older. This year it was 24%. Among 65 and older voters, 50% supported Biden and only 15% supported Sanders.
A candidate must receive a majority of the pledged delegates, at least 1991, in order to secure the nomination. Candidates who have dropped out but secured some delegates can also direct their delegates to support another candidate at the convention.
Following a disappointing third-place finish in her home state of Massachusetts, Senator Elizabeth Warren dropped out of the race. Former New York City Mayor Michael Bloomberg also suspended his campaign after gaining very few delegates, endorsing Biden.
Warren elected not to immediately endorse a candidate when she dropped out as Buttigieg and Klobuchar previously had.  
"I need some space around this. And I want to take a little time to think a little more," Warren said. 
"
I need some space around this. And I want to take a little time to think a little more,"
— Elizabeth Warren
The next primaries will be held in Michigan, Mississippi, Missouri, North Dakota, and Washington next Tuesday, March 10th. These states will award a total of 352 delegates. Michigan is the biggest prize with 125 delegates. 
In the 2016 primary, Sanders won the state of Michigan in a surprise victory. Recent polling in Michigan has been mixed with Sanders and Biden both leading some polls. However, these polls are essentially useless at this point, as they were taken before Super Tuesday and still include many candidates who have since dropped out. 
The next debate is not until March 15th, two days before the Florida, Illinois, Ohio, and Arizona primaries. 577 delegates will be awarded on that day.