Teachers Stand Together for Salary and Benefits Increase
After 16 meetings, both negotiating sides have been unable to come to an agreement. CUSD teachers have been working without a labor contract since July 2016.
Hang on for a minute...we're trying to find some more stories you might like.
Teachers participated in a district-wide demonstration on December 1 to gain support in the ongoing contract dispute with the Capistrano Unified School District.
They dressed in all black and gathered at the intersection of Stallion Ridge and La Pata before school holding signs promoting their cause. Similar demonstrations were held at other schools in the district.
The Capistrano Unified Education Association (CUEA), the union representing teachers in CUSD, has not been able to successfully negotiate increases in salary and health care benefits.
Teachers have been without a labor contract since July 2016, but negotiators from CUEA have not found common ground with the negotiators from the district in the 16 meetings they held before an impasse was declared.
The proposals from the two sides differ greatly. CUEA is requesting a 2% salary increase, and "a sustainable plan to mitigate the negative impact of increasing employee health and welfare contributions," according to its president, Sally White. Both agree on an early retirement incentive.
As it stands now teachers would have to absorb any increases to health care costs, which is seen by many teachers as the same as a pay cut in the long run.
CUSD is currently offering two options. The first option consists of a 3.5% one-time bonus and a temporary increase in health care contributions. The second option includes a 1.5% salary increase and an increase in health contributions lower than CUEA's expectations.
According to CUEA, the current offers are not good enough. They claim the district is regressively bargaining and has given better offers in previous negotiations, yet those proposals still fall short of CUEA's goals.
"Our bargaining goal has been to retain and recruit good teachers. Show us that you value us," said White, at a district board meeting on November 8.
CUEA believes that the district has the resources to adequately pay teachers, though it is mishandling its finances. Salaries previously constituted 49% of the district's budget, but now only account for approximately 40% of the budget.
"We have an honest disagreement with the district, but not about the facts or the numbers of the district budget," she said. "Where we disagree is in how the priorities have shifted in the past few years."
Since the 2007-08 school year, resources have shifted away from the teachers. For example, the district is now spending more money hiring school administrators despite decreased need.There were 5,000 more students and three more schools in CUSD ten years ago, yet there are now more district level administrators.
"
We have an honest disagreement with the district, but not about the facts or the numbers of the district budget. Where we disagree is in how the priorities have shifted in the past few years."
— Sally White
"Our Board of Trustees and district leadership value the commitment and dedication of our teachers and certificated staff," the district said in a press release. "It is always our desire to recognize our teachers and staff for their incredible work while also ensuring that our District budget remains fiscally sound."
The district cited the uncertainty of future budget cuts as the main reason for the inability to provide teachers with higher salaries. Despite this, other districts have been able to offer competitive pay to their teachers. CUEA says the district "sits on a multi-million dollar ending balance."
In 2012, the maximum teacher salary in CUSD was ranked 9th in Orange County. Currently, the district ranks near the bottom in the county. The CUEA proposal seeks to bring the top salary to the county average.
"I would do anything to stay here… but it's tough being faced with the financial realities of being a CUSD teacher," English teacher Danielle Serio said during the November board meeting. "For my husband and I, owning a home has always been unlikely. We both chose careers where we could be personally fulfilled, and that often means taking a hit financially."
After three meetings with a mediator proved unsuccessful, the two sides entered a phase called "Fact Finding". During this phase, negotiators gather data and evidence to support a proposal to settle the dispute.
After preparing evidence, each party presented their proposals to a three person panel consisting of one CUEA representative, one CUSD representative, and one neutral individual.
The neutral individual can either help mediate the negotiations or write a report on the panel's recommendations.
After the first Fact Finding meeting on December 12, the parties agreed to have an additional Fact Finding session on January 11.
"In order to respect the process, the neutral Fact Finder has directed the parties to keep the details of the Fact Finding confidential. Information will be released as soon as it becomes available following the next Fact Finding meeting," said Ryan Burris, Chief Communications Officer for CUSD.
If no agreement is reached after Fact Finding, CUSD may impose its last best and final offer and CUEA could legally engage in work stoppages, also known as strikes.
The last strike in CUSD occurred after the district imposed a ten percent pay cut in March 2010. Teachers picketed outside schools for three school days in April before reaching a settlement with the district.
During the 2010 strike attendance fell to around 30% after the first day.
Teachers on the negotiation team declined to comment and teachers in general are barred from persuading students to support their cause or speaking about it.

About the Writer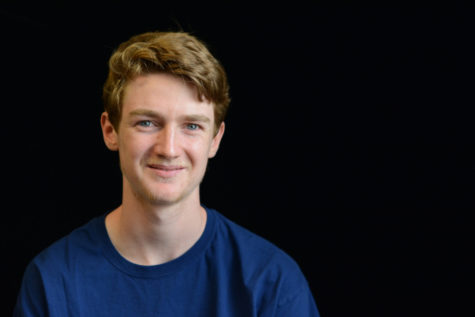 Brendan Gibson, Staff Writer
Brendan is a senior and in his second year on The Express newspaper staff. He has played on the school's basketball team since freshman year. In addition to sports and journalism, he loves travel, Scrabble, and his dog. After high school, Brendan wants to study engineering.