AB 484 Ends STAR Testing This Year
The rumors are true. This spring, SJHHS will not be administering STAR testing if Governor Brown signs AB 484 into law, which he is expected to do.
The bill, which passed the State Assembly in early September, ends STAR Testing in California in the 2013-14 school year to clear the way for a new type of testing next school year based on the Common Core standards the following year. The new tests will be called Smarter Balanced Assessments. California and 44 other states have adopted the new standards but implementing the computer-based testing is the tricky part for many districts, including CUSD.
This sounds like a dream come true for students, especially juniors and seniors who will never be tested. But while AB 484 seems to relieve the state and its students from the requirement of the STAR test, it also sets the stage for a confrontation with the federal government, which has threatened to withdraw up to $1.5 billion in funding to California schools if they do not validate their education with some sort of standardized testing.
"There's a good chance there will be some kind of testing but we don't know what it's going to be yet," said Tom Ressler, principal. He mentioned that the state has given them options so there might be some 10th grade science tests, a practice test on the new type of testing, or perhaps a different test to qualify for minimal funding. It is unlikely that seniors will be testing this year and guaranteed that the CAHSEE test will not be affected by this new arrangement.
Common Core has been agreed upon by 45 states, including California, because over the past 10 years, standards of proficiency for testing have differed dramatically from state to state. For instance, California's proficiency level is much higher than most states which have lowered their rate since they are more difficult to achieve. On the flip side, there are other states that made their standard as low as being able to read and write leading to very high proficiency rates that are not useful qualifications for moving on to the college level.
"Common Core is a new way of thinking about testing [that will] level the playing field for kids in every state," said Ressler.
Instead of regurgitating memorized facts that are expected to be on tests, the new testing format focuses on critical thinking where there are not necessarily right answers. Students will be given texts that could be a written piece, a graph, political cartoon, or even a painting and use their creativity and analysis skill to bridge it to their own lives and the world around them.
"On one hand it's harder, but on the other hand it gives the student more power to be able to say 'I've learned how to do this," said Ressler.
Change is certainly on the way for SJHHS as well as most of the nation as this new era of testing has begun to take shape for the students of America.
About the Writer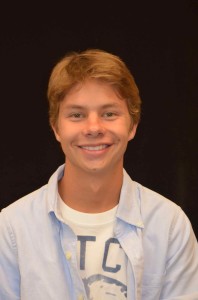 Shane Battis, Staff Writer
I am currently a Senior at San Juan Hills High School. In addition to working as a reporter for the school newspaper, I am also a member of the Golf Team,...