Academic Decathlon Wraps Up Season, Brings Home Awards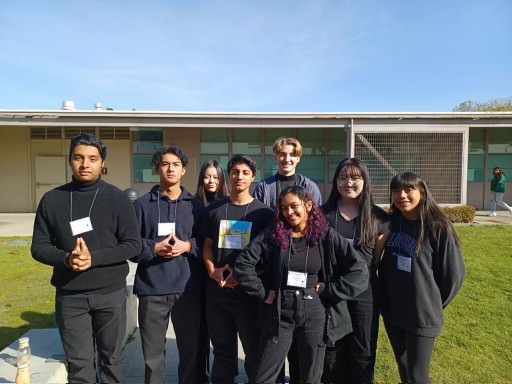 The Academic Decathlon (ACADECA) club season wraps up with memorable achievements and awards. The season stretched from fall to spring, consisting of a team of nine students from all grade levels. The team is divided into three honors groups, based on the student's grade point average. 
Group one is the "varsity" group, consisting of students with GPAs ranging from  0.00 to 3.199. Group two is the "scholastic" group, with students who have GPAs from 3.20 to 3.799. Group three is the "honor" group, with the highest GPAs of 3.80 to 4.0. Each group is comprised of three students.
This year's decathlon members include sophomore Shaurya Sharma, juniors Elizabeth Duong, Seema Kulkarni and Luke Magturo, and seniors Karina Huang, Yaratza Lievanos, Carter Van Zanten and Daniel Salinas.
On February 4, the team attended an all-day final competition at Westminster High School. There, students competed in intense quizzes, speeches, interviews and essays against other schools. This tournament included  "Super Quiz," where each of the 3 GPA groups took turns answering questions, and the students learn their scores on the spot. SJHHS's team placed third on the "Super Quiz". 
"There's a lot of cheering and adrenaline, It's definitely my favorite task because it's the most 'team-oriented' event," said Huang. 
They are tested on topics including art, economics, literature, mathematics, music, science and social science. Every year, ACADECA focuses on a specific academic topic, this year's was the American Revolution. 
Seven of the nine members won individual awards during the competition. They were awarded for their achievements the following Friday, during an assembly at Orange Coast College. 
Huang received three awards, including fifth place in social science, fourth place in music and first place in economics.  
"Going into the tests, I knew economics was my best chance of receiving a medal, but placing first was beyond my expectations," said Huang. 
Junior Elizabeth Duong, who is the team captain, won 6 medals, including 2nd place in the interview, 4th in the essay, and 5th in economics, music, social science and speech. 
Seema Kulkarni placed 4th in the interview and literature assessments. 
Magturo, Sharma and Salinas received 5th place in math and Yaratza Lievanos archived 3rd.
Shaurya Sharma also placed 3rd in the interview portion of the assessment.
"I'm very proud of my team for everything they've accomplished and it felt so nice to have all of the hard work pay off," said Duong.