Immigrant Students Share Experiences: Life at Home, Moving, Education
Lucía's family lived on a mountaintop by an empedrado, or land where roads are made out of only rocks. She says some of the houses' roofs were built out of hay and plastic, and gates were constructed with sticks and string. Their surroundings were littered with trash, as neighbors – some of whom were homeless – had nowhere to dispose of their waste. Living quarters were tight: her dad and his 15 sibling family, and her mom and her 12 sibling family, each shared one house. Lucía would have had 30 aunts and uncles, but seven passed away; she attributes this loss to the family situation in Mexico.
"[My parents] came here specifically because of economic situation. Over there in Mexico their life was horrible," said Lucía, who spoke to The Express on condition of anonymity. "Things are very expensive, especially because inflation was hitting them too, and some can't even afford to buy milk or eggs or water at times." 
Lucía's father and mother, while pregnant, made the trek across the border, and it wasn't easy. First, it was a plane ride to Tijuana, followed by crossing the border in a trunk. Here, they were sent back four times. After finally crossing near Tijuana, they endured a treacherous 3-day walk across a desert. But for their children's futures, it was worth the journey.
"She always tells me every night about how we should be grateful because the things we have here, we would have never had over there in Mexico," said Lucía.
"
She always tells me every night about how we should be grateful because the things we have here, we would have never had over there in Mexico
— Lucía
More than one million immigrants move to the U.S. each year in hopes of living their American Dream. SJHHS is home to 109 English Learners (EL), according to the 2022 California Dashboard. However, lacking English fluency can make succeeding in the American school system difficult. 
Based on the results of the English Language Proficiency Assessments for California, the dashboard reported that at SJHHS only 39.4% of EL students are making progress towards English language proficiency, which is relatively low compared to the statewide 50.3% of EL students showing progress.
The 2021-22 Western Association of Schools and Colleges study reported that only 23% of SJHHS EL students met/exceeded standards for the California Assessment of Student Performance and Progress (CAASPP) English (ELA) section, and none met/exceeded standards for the math section in the 2018-2019 school year (most recent due to COVID-19). Only 1.4% of EL students were enrolled in an honors class, and 0.2% were enrolled in an AP class, as of the 2020-21 school year.
"You cannot understand what [the teachers are] saying, and then you just don't know what you're learning. So that's the hardest part," said junior The Wang, who goes by George. 
Wang was raised in China, completed elementary school in Japan, and immigrated to the U.S. during middle school. He says English classes in Japan were limited to basic vocabulary and grammar, and only began to grasp fluency once living in America. In his 8th grade English class, he received an F, simply because he could not understand the language of instruction.
"
You cannot understand what [the teachers are] saying, and then you just don't know what you're learning, so that's the hardest part
— Wang
A 2018 study from the University of Colorado and the University of Texas Austin compares the education of the average non-hispanic white male in America, with 13.8 years of education, to immigrants of different descents. Generally, Japanese immigrants come to America with 15.7 years of education, and Chinese immigrants come with 14.9 years. 
However, Central American immigrants typically immigrate with only 9.7 years of education. Their children, now second generation Americans, play catchup, receiving an education with 13.3 years of education on average. For Latin-American students this can come with challenges.
"[Many] of our parents don't even finish high school, some not even middle school or elementary. I know a friend of mine whose mom didn't finish elementary and she wouldn't be able to ask her anytime she had questions for homework," said Lucia. 
For some students, school cannot always take priority. Lucía, a child of undocumented parents, was given the talk at age 11: if her parents were sent back, she needed to be prepared. At age 9, Lucía was already taking care of her five month old and five year old brothers while her parents were at work. Around age 12, Lucía's mother often took her to work cleaning houses, so Lucía would be prepared and have a clientele of homes to clean if ever necessary. 
"It is scary. I do think about it sometimes and I'm like, I wouldn't even know what to do… [My mom] took me to work with her…and she's like 'you have to start getting the hang of working because what if one day we're not here? You're gonna have to maintain your siblings one way or another,'" said Lucía. "I do have money but it's not even an amount to keep us living for a month. So I'm like what if one day they get sent back? What do I do? Who do I go with? Who would I go with for help?" 
"
So I'm like what if one day they get sent back? What do I do? Who do I go with? Who would I go with for help?
— Lucía
Immigrants may feel isolated in their new country, struggling to fit in with the different expectations and standards.
"There's some things that [other students] don't understand…there's stuff that as an immigrant…other people maybe don't understand or can't relate to. So it's a bit harder to connect with them over that," said junior Sadeen Hindiyeh, who immigrated to the U.S. from Dubai in 2021.
Yet, it can also present an opportunity to grow.
"Before I came to America…let's just say I'm a shy boy. I'm a very shy boy. I cannot speak. I cannot listen. I just want to run away when people speak to me, and that's what I did too when I first come to America. But as the time went by the people were changing…Now I can speak freely. I can speak what I want to say. I can listen to what people say because I'm not the one who I used to be anymore," said Wang.
On Mar. 2, students from organization No Place For Hate will hold a presentation about immigration in the Theater Conference Room, as a topic of the school-wide event Unity Week. The presentation will feature guest speaker Francisco "Panchito" Javier Ramírez Rueda, a first-generation immigrant who created the Dreamers Soccer Clinic, which offers free soccer workshops to underprivileged youth. 
Through the presentation, student leaders want to encourage dialogue on campus and break stereotypes about immigrants.
"I hope that people learn that we're not as different as some people think…the stereotypes around immigrants are big," said Hindiyeh, who will be presenting on immigration with No Place For Hate. "You can't really tell the difference between an immigrant and a local…We're all the same."
Lucía's real name has been changed to preserve anonymity. 
Leave a Comment
Your donation will support the student journalists of San Juan Hills High School. Your contribution will allow us to cover our annual website hosting costs.
About the Writer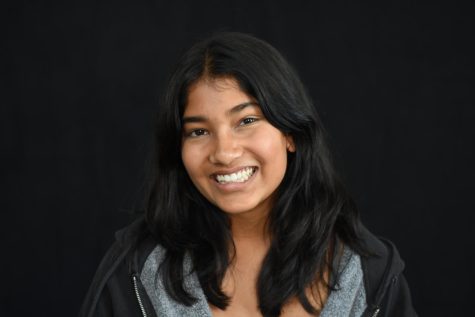 Nikki Iyer, Co Editor-in-Chief
Nikki is a senior at San Juan Hills High School, and this is her fourth year on The Express. As a Co Editor-in-Chief on the paper, Nikki is super excited...