Rare Bird Theft Impacts Local Store
Rio got it wrong. The movie paints bird trafficking in a colorful way, but in reality, the birds would not receive that happy ending. 
On Dec. 20 2022, The Feed Barn in Capistrano Beach lost three parrots to trafficking: Baby Love (Umbrella Cockatoo), Cody (Double-Yellow Amazon), and Sweetie (African Grey). 
"These birds have been a part of my life for a little over five years. They're family to me. I am deeply saddened and have so much resentment towards the people that took them from us," said manager Amber Cardona.
Cardona entered the store eight hours after the crime to find shattered glass and stray bird feathers. The owner, Michelle Martin, says the video surveillance shows two suspects breaking the storefront door, grabbing the parrots, and shoving them into their backpacks.
"The birds were something I looked forward to seeing at work. When I found out the birds were stolen it felt like my heart dropped out of my chest. I've never felt a pain like this," said employee, junior Mason Johnson.
Parrots are known for their high intelligence, strong charisma, and playful behaviors. Sweetie (35 years old) has a life expectancy of 80 years. He is notorious for making funny fart noises and he often sings tunes from the Addams family. Sometimes, he would even answer the store phone, screaming "hello," while coughing like an old man. Employees say that Baby Love (22 years old) and Cody (40 years old) would behave like "brothers," often sharing the same pirch and giving each other baths. 
"Parrots are extremely sensitive and know when something is not right. I hate to think how scared and far away from home they feel," said Cardona.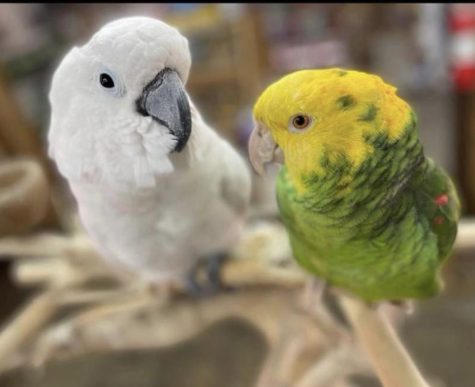 The U.S State Department estimates that 2-5 million birds are trafficked each year. Bird trafficking is a 10 billion dollar industry, likely due to the beautiful feathers, eggs, and high value. They may even be smuggled in obscure objects like thermoses, nylon stockings, toilet paper tubes, and hair curlers. 
The ring has negative impacts on wild bird populations and ecosystems in the regions they are taken from.
 Traded birds are often sold at swap meets, so employees are searching San Diego, Los Angeles, and Orange County meets in hopes of finding the parrots. Local police say it can be difficult to find them,  considering many birds within the species look similar. Crime scene investigators scanned and swabbed for DNA in the pet store to find a sample of the suspects but were unsuccessful. 
To help find the birds, spread awareness on social media, tell family and friends, attend swap meets, and call the Feed Barn Capistrano Beach if you have any information. 
"Spread the word as far as you can to bring our babies back," said Martin.