The Elephant in The Room: Positive for Covid
Four families. One room. One positive Covid test. Who's going to get it? 
For weeks, my grandparents had been planning to have their annual family Christmas party at their house in Sacramento. Four families, including my own, were planning to attend. 
With the Omicron wave rising, it was important to everyone that we were taking precautions to make the gathering as safe as possible. Collectively, we decided that everyone would take a Covid test before they arrived.
After everyone agreed to do this, we all set out to Sacramento. The day of the party, my aunt, a school nurse, offered to test anyone who wanted extra confirmation, as she brought many rapid tests along with her. 
She even gave every family a box of Covid tests as their Christmas present. 
She made it very clear that she had tests available if anyone wasn't able to test beforehand, however no one took her up on the offer, everyone claiming to have already tested that morning. 
After being together for several hours, one of my cousins finally agreed to take a test to satisfy my aunt. One line: we're safe. Two lines: we're in trouble. 
Two lines appeared. 
Perfect. He is positive for Covid-19. 
The room went silent. We've all been exposed. The only thing on our minds: getting out of that house. 
But, we all tested beforehand, right?  The truth comes out…that was not the case. His family did not test like they promised. What seemed to be a little white lie turned into a whole lot more. 
While my family was packing our things up, we started to hear shouting from another room. People were frustrated that this occurred, considering it could have been prevented from the start. Family members who were supposed to stay with my grandparents for the rest of the week were so upset, they decided to drive six hours home at midnight.  
My family hasn't seen my grandma and uncle in two years because of Covid. We had plans to meet up with them for dinner and enjoy New Year's Eve together. Instead, we were scrambling to find an open flight back home. 
"
I don't want another Covid Christmas, and I know you don't either. If we want change, it's up to us to make it happen"
One positive test changed everything. And that was just the beginning. By this time, it was all a waiting game. Who gets it? Who doesn't? 
After staying home for a couple of days, everyone decided to take a test before going back to school. Both my aunt and her two kids were positive. 
One of my brothers and I tested. It seemed to be the longest fifteen minutes of our lives, waiting for the results. 
Negative. 
Hallelujah! I walked up to my room and started responding to my messages. "Yes, I can hang out later!" That joy didn't last long however. Minutes later, my youngest brother tested. 
Positive. 
Looks like we're out of school for a little. Looks like we have to cancel those plans. Looks like we better prepare to get sick. 
And we did. Although my older brother and I never tested positive, we did get sick. Some may say it was Covid, some may say it was the stress of the holiday fiasco. Whatever it was, it was a tough week; not only for my family, but every family who was exposed. 
Moral of the story: expect the unexpected. Be cautious. And most importantly, be honest. So much lost time and illness could've all been prevented with one single test. 
I don't want another Covid Christmas, and I know you don't either. If we want change, it's up to us to make it happen. Do everyone a favor and be considerate.
Leave a Comment
Your donation will support the student journalists of San Juan Hills High School. Your contribution will allow us to cover our annual website hosting costs.
About the Writer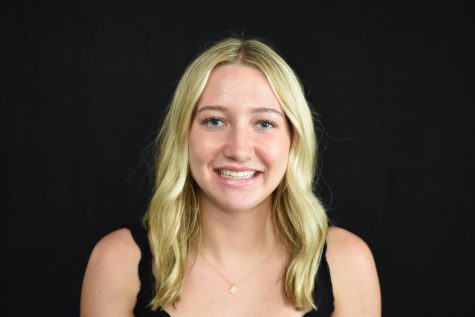 Kaitlyn Kittredge, Co Editor-in-Chief
Kaitlyn is a senior at San Juan Hills High School and this is her fourth year writing for The Express. This year, she is excited to see how she can grow...