Students Form Club in Response to Dear Asian Youth Movement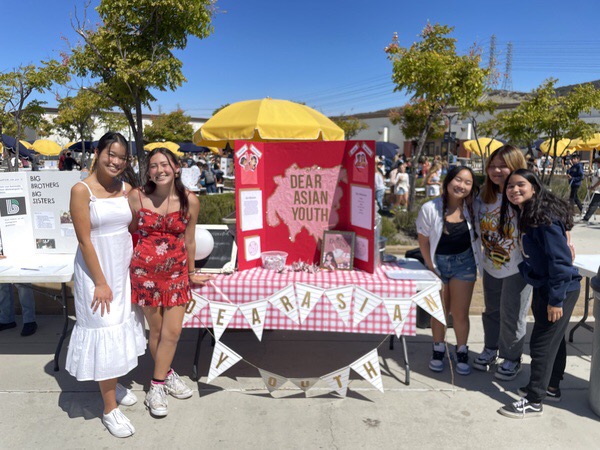 Dear Asian Youth (DAY) is an international program, whose goal is to educate and unify the Asain youth population of today. Stephanie Hu, a Tesoro High School student, began the program as a junior, wanting to connect and educate others in a time of heightened Asian-American discrimination. This school year, SJHHS has formed its own chapter of the organization.
This chapter has started under the leadership of club president Maddy Hing, who took the initiative to create the chapter based on her hope to see the solidarity of Asian students at school, as well as the education of Asian culture for all.
You might have noticed them during club rush, passing out Ding Tea boba drinks to display their goal of bringing in cultural education on all aspects of one's heritage, from history to food.
"I saw [Dear Asian Youth's] Instagram and thought that it was a really cool cause," said Hing. "This past summer I got really into their mission and wanted to bring that here to this school."
"
It is thanks to clubs like DAY that students are given the opportunity to connect deeper with their own culture and help their communities around them."
With the help of other members of the club council, Hing prepared the club for its first year on the SJHHS campus at San Juan and is organizing future events. At each meeting, the goal is to incorporate an educational aspect of Asian culture and create a safe environment for Asian students to bond and connect.
"Monthly meetings will have lectures about cultural awareness and a bonding event online through the chapter Discord. I wanted to make it so that everyone in the club is a part of the discussion," said Hing.
The first meeting held on October 13th brought a large turnout, focusing on introductions of the team,  as well as a Kahoot to bring students together.
As the year continues and DAY gains more publicity, Hing expects the club to grow and accommodate a larger group of students.  
Looking forward, Hing hopes to raise funds for larger events throughout the year, which help the club and the surrounding community.
"We plan on doing fundraisers for our own club and other local businesses, and possibly going to Asian festivals around the area. We also are planning on doing donations that support organizations that help with the cause," said Hing.
Large aspirations for the club pose challenges for the council members, but they are ready to persevere and achieve their goals in order to make this year a memorable one. Hing even hopes to expand the reach of her chapter and connect with others, both locally and nationally.
"I've been talking with the Presidents of the Tesoro and Aliso Niguel chapters about collaborating on events. We also can collaborate with overseas organizations and college chapters to make for a fuller experience," said Hing.
It is thanks to clubs like DAY that students are given the opportunity to connect deeper with their own culture and help their communities around them.
We can look forward to all these events and more as the year progresses, so keep an eye out for announcements about donations and drives. If you are interested in the club and would like to know more about the chapter, you can contact them on their Instagram: @dearasianyouthsanjuanhills.