Alumna Explains Importance of Activism
The most crucial members of social movements are sometimes not the well-recognized leaders. Often the most important people in these movements are the people that are rarely in the spotlight. A prime example of this is SJHHS Alumni Angelie Jackson.
Much like her peers, Jackson had known about Black Lives Matter and other social justice movements for a long time, but it wasn't till the summer of last year when she really became involved in the movement.
"I'd always been aware and active on all of the past movements, but I started protesting at the beginning of summer 2020 till the end of it. Of course I didn't want to stop fighting, and I still haven't stopped," said Jackson.
Throughout 2020 and up to today, she has found many ways to become more involved in the movement and to better spread her message of equality.
From the small actions like signing and sending petitions to close friends and family and spreading awareness of urgent issues via social media to the bigger actions like attending protests and speaking in front of crowds about her experiences.
"
I know that although everyone knows and has heard of 'BLM', not enough people are actually aware of the trauma and the exhaustion behind those three letters."
— Jackson
While the BLM movement is important to her, it hasn't been her sole focus. In fact, alongside other former and current CUSD teachers and students, Jackson spoke about her experiences dealing with racism throughout her time on CUSD campuses. 
"I shared quite a few of my traumatizing experiences that happened throughout my years of going to school here in South Orange County. One of those experiences being pushed down three flights of stairs, backwards, by two white upperclassmen football players, after just getting to the top, while being called [the n-word]. Retelling some of my stories, from young Elementary days all the way to my last year of high school, it was very hard for me to do," said Jackson.
For Jackson, her mother was an inspiration and her primary motivator in encouraging her to speak up.
"My mom encouraged me to speak up and finally share my story for teachers, parents, and students mainly to hear, and to be aware that there are so many horrible acts of racism and discrimination constantly happening to POC at our schools," said Jackson.
In addition to giving her own personal testimonies of mistreatment and harassment, Jackson encourages students to become more involved in movements like BLM. From attending protests to spreading the message on social media, in her eyes no action is too small.
"I think it is extremely important for students, and everyone else basically, to get involved in the BLM movement. Whether you are attending a protest, posting on social media, giving speeches to the public, or even just signing petitions and donating, it all really does help," said Jackson.
With first-hand experience as the target of racism, Jackson knows all too well the need to contribute in any way possible to social justice movements and to understand the history and motivation behind them. "I know that although everyone knows and has heard of 'BLM', not enough people are actually aware of the trauma and the exhaustion behind those three letters," said Jackson.
Regardless of whether she is protesting at a BLM event or if she is speaking about racism outside a CUSD Board meeting, Jackson continues to fight against racism wherever she goes.
"Many of our stories have been buried and swept under the rug by people who are supposed to protect and support us. Our schools have failed us for the longest time and we are tired," said Jackson.
Leave a Comment
Your donation will support the student journalists of San Juan Hills High School. Your contribution will allow us to cover our annual website hosting costs.
About the Writer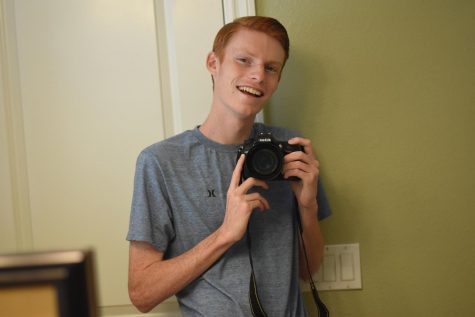 Jack O'Connor, Co-Editor-In-Chief
Jack is a senior at San Juan Hills High School. This will be his third year on The Express. He is looking forward to being Co-Editor-in-Chief this year....