Students Adjust to a New Work Life Due to COVID Pandemic
Most students were not prepared for coronavirus' effect on their work lives after quarantine last March.
Once the world began to shut down, a lot of businesses were required to close due to safety and health concerns. Only essential businesses were required to stay open. One grocery store in particular, Trader Joe's, was hit really hard once quarantine began.
Senior Sydney Segrell, who has worked at Trader Joe's for a little over a year, had never seen the store like it was in the beginning of quarantine. "It would be 5:00 pm and there would be no food left," Segrell said. "People were buying out the whole store in a day."
A lot of people began stocking up on groceries believing that the quarantine period would last a long time. Grocery stores began seeing their shelves getting cleaned out by customers who were stockpiling canned goods, frozen foods, and especially toilet paper.
"It was insane. We have a warehouse in the back filled with waters that are normally stocked, but it soon became empty," said Segrell. "Normally we are pretty good at keeping things stocked, but things were getting out of control."
Not only were grocery stores affected by the pandemic, but many restaurants were also forced to close their doors and adjust to new guidelines to ensure a safe and healthy business.
Senior Zoe Hotmer has worked at the local Selma's in Ladera Ranch for about a year now and has realized that the pandemic has made her closer to her coworkers and more comfortable in her work environment.
When quarantine first began, Selma's decided to quickly adjust to the closure of restaurants by transitioning into a "grocery store". "We started selling toilet paper and cleaning supplies at first, but then we realized that we could also sell grocery items that some stores were out of stock of," said Hotmer.
Selma's began offering customers cleaning products, toiletries, groceries, and a new "take-n-bake" option for people to enjoy Selma's food in the comfort of their own home. Even though people could not eat in the actual restaurant, Selma's was able to keep their business afloat and care for the needs and wants of the community.
"Once we were allowed to open up again, we had to come up with more creative ways of seating," said Hotmer. "We have added a bunch of seating outside by taking up some parking spaces and turning it into a patio where we have live music every weekend."
In addition to adding seating outside, in a more socially distanced space, Selma's has also adjusted certain aspects of the restaurant to ensure safety of their customers. They have changed their menus to a new QR code system where customers can scan the code to see their digital menu and avoid having to touch a hard copy. 
"We will most likely keep the QR menus in the long run because it is easier for us to update the menu online every day and there is no need to clean a paper menu," said Hotmer.
Although there have been many challenges with the new COVID-19 guidelines and rules, businesses are finding ways to adapt and are continuing to implement these new tactics after the pandemic is over.
About the Writer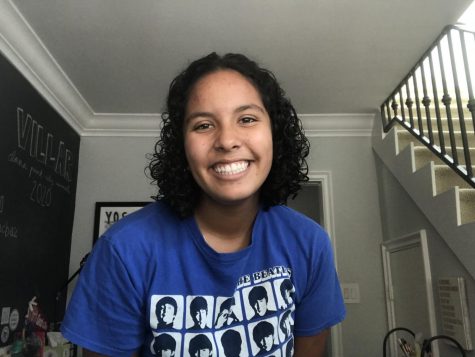 Ella Villar, Co-Editor-In-Chief
Ella Villar is a currently a senior and has been a member of The Express for three years now. As one of the Co-Editors-in-Chief, she intends to recognize...