Rising Student Filmmaker Takes Next Step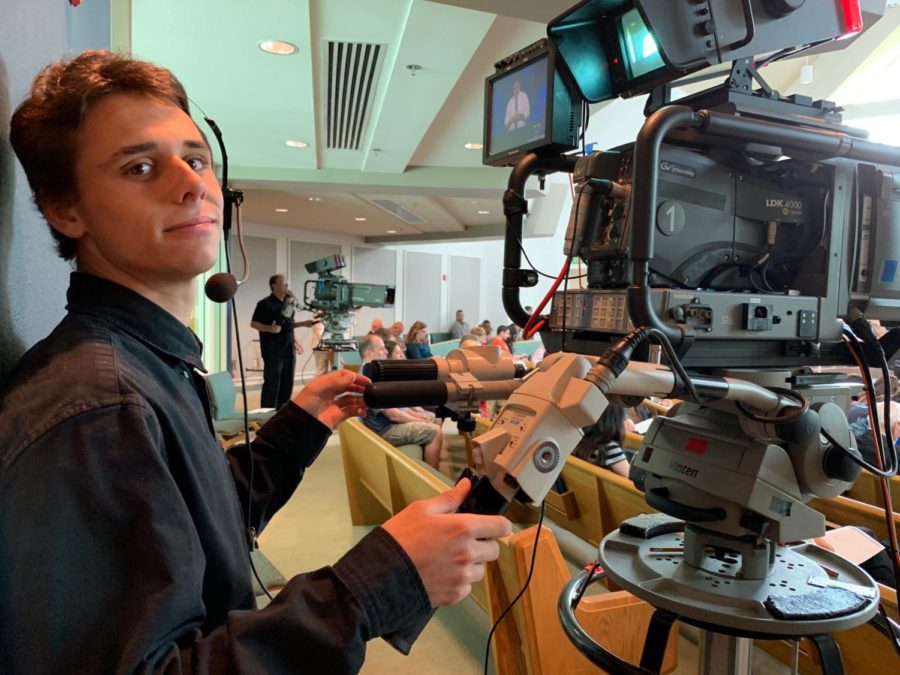 Whether it is filming church services or music videos, senior Oliver Rudolph is venturing into the film industry, hoping to continue this path beyond high school. 
As members of the film industry, Rudolph's father and brother introduced the idea of filmmaking to him at a young age. 
"My brother has been [filmmaking] for like four years, but I started like a year ago," said Rudolph. "My dad is a boom operator and he has worked on iCarly and all of those Nickelodeon shows and he's brought me there ever since I was a kid."
Being involved in the industry since childhood has impacted Rudolph creatively, allowed him to join his brother, make films of his own, and work on projects to give him experience in the industry. "I just started doing [films] by myself," said Rudolph.
"
You have to think of the shots you're going to make and where you're going to make them,"
— Oliver Rudolph
The brothers have been working on music videos together, but individually, Rudolph films the church services he attends, and additionally he is working on short films of his own. His brother is a director of photography and has been making films since high school. 
"With my brother, we've probably made like six or seven, and by myself, I'm in the middle of one right now," said Rudolph. 
The process to film a music video can take anywhere from one day to a couple of weeks. "First the artist has to reach out to you, and they'll give you a location and a budget so you have to start ordering equipment or renting gear," said Rudolph. "You have to think of the shots you're going to make and where you're going to make them."
The longest shoot Rudolph has worked on took about two weeks to complete. 
Rudolph has been hired to film music videos which are published by the artists on their Youtube accounts or on their Instagram profiles. "There is this app called Vimeo where filmmakers put their short films on there," said Rudolph.
Looking up to filmmakers like Quinten Tarantino, Rudolph will continue to film and grow as an artist with his brother. Rudolph is currently working on a film of his own while being hired by other directors and filmmakers, like his brother, on smaller projects.
After high school, Rudolph hopes to go to film school. "I am thinking about going to film college; maybe Chapman or start at Saddleback," said Rudolph. Rudolph hopes to improve his skills as a filmmaker and in the future, make movies for a living.