French Exchange Student Takes on the American School System
Hang on for a minute...we're trying to find some more stories you might like.
Eliott George is new not only to the SJHHS campus, but to the United States. George has come all the way from Compiegne, France to spend a year studying as a Stallion and expanding his knowledge of American culture.
George is studying in California through a program called American Field Services. This organization allows for students from around the world to travel and study in new places. By doing this, students are given an opportunity to immerse themselves in a new culture while studying abroad.
"For the past month I have been living with one of my friends, who is also a student at SJHHS. I really enjoy living with him and his family. My host brother is the same age as me, and he sometimes helps me with my studies and shares his life with me as a student from California," said George
While he has been enjoying his experiences, he initially missed his home and family: "The first month was really hard because I had never been away from my family for more than two weeks, and I knew that I would not be able to see them soon. I was calling them a lot in the beginning, but it is still very hard because there is a nine hour time difference," said George.
George explains that similar to his trip from France to California, adjusting to life at SJHHS has also been a journey.
"I discover new things about the culture everyday, so I can say that I'm still adjusting. The first two months were a challenge because I had to adapt to the American accent and lifestyle, but today I feel well integrated and have less problems with the language," said George.
Being native to France, George has experienced many differences between his home country and the United States in regards to both culture and the education system.
"The school system is very different from back home. In France we finish school much later in the afternoon, while here I have more time to do what I want," said George.
"
The first two months were a challenge because I had to adapt to the American accent and lifestyle, but today I feel well integrated and have less problems with the language"
— George
George also explains that the school system in the US is less challenging than in France, and  "students here have slightly higher grades compared to French students."
In addition to such differences in terms of education, one of George's favorite classes is one that he would not be able to take within the school system in France.
"My favorite class is sports medicine. I find it very interesting, and it isn't available in France. It poses a real challenge for me because I only know the name of some parts of the body in English. Regardless, my teacher, Micah Ohlen, gives me a lot of confidence and makes me want to know more about it," said George.
Aside from academics, George also shares his perspective on how food and health in America are stereotypically described versus his personal experiences.
"The biggest stereotype about America is that people eat a lot of junk food and are not very healthy, but I am eating healthier here than in my country. In France we only have McDonald's and Kentucky Fried Chicken, but contrary to what we think, Californians are very healthy. Of course Americans don't have our specialties, but apart from that there aren't many big differences between the food in the US and in France," said George.
Since George's time in the states ends in July of 2019, he plans on enjoying all the time he has.
"The year goes very quickly so I try to make the most of the moments I spend here with my host family and my friends. I am gradually improving my English and really enjoying my journey."

About the Writer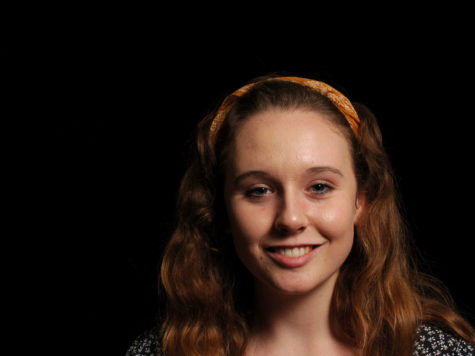 Katie Brubaker, Managing Editor
Katie Brubaker is a senior at SJHHS and this is her third year on The Express newspaper staff. In the previous years, Katie held the positions of Arts...