Senior Twins Reminisce on High School Memories
Hang on for a minute...we're trying to find some more stories you might like.
Waking up for school can be an absolute pain on any given day of the week. Driving the same old commute, listening to the regularly scheduled lecture and having to deal with your genetic carbon copy. Wait, what was that?
Close friends are irreplaceable, but a twin acts as both a sibling and best pal, inseparable at birth. The following senior students reveal what it has been like to attend school nearly every day with their twin for the past 4 years, looking back at some of their favorite moments along with the memories they created here at SJHHS.
The Goldhammer twins, Tate and Tristan, both excel in academic areas as well as athletics with their experience in the field of playing Varsity Lacrosse. Being some of the very few sisters on the team, they have cultivated a great bond through their love and passion for the game.
"It was interesting because not really anyone else on our team has twin," said Tristan Goldhammer. "It was really fun being able to play with and experience all four years with her (Tate) on Varsity."
Halfway through their high school careers, their little sister, Tara, joined them as a freshman making the Goldhammer sibling score total up to 3. All three sisters played lacrosse at the same time making it highly likely to see at least one Goldhammer at any given girls' lacrosse match.
"It was a really cool experience having her a part of the team because it drew us closer as sisters, and it was cool to share a great bond," said Tate Goldhammer.
"
It was a really cool experience having her a part of the team because it drew us closer as sisters, and it was cool to share a great bond,"
— Tate Goldhammer
Educational opportunities aside, life at high school with their other half has provided the ability to tighten the bond the Goldhammer sisters already share. Another pair that has felt a more established link between each other are the Verburg twins who have been in essentially every class together since freshman year.
Chris and Anthony Verburg are on track to go to college, both studying Computer Science together making their efforts in the classes they took parallel one another.
"I thought it was kind of weird because having a twin feels like you're being copied," said Anthony Verburg. "When I do something, he does it and 'oh he's copying me!'"
Not all the things they did felt "copycat-esque" however, as it was nice in Anthony's view to have another like-minded individual by his side. "You have someone to bounce ideas off of," said Anthony Verburg.
Chris Verburg shares a very similar sentiment as he agrees with his brother that the aura his twin brings is one that carries calmness and the ability to unwind after a long day of school. "You're going home and you're seeing them so you can do homework together, and it makes life simpler," said Chris Verburg.
In addition to the fun they have on a daily basis, the end of this current school year brought one of their favorite moments: building a 20 man boat for AP Physics II. With the help of other students, the Verburg twins were able to get 20 people across the school's pool after putting in 13 hours of hard work and craftsmanship. The last brotherly duo shares a similar feeling for their respective twin in that high school has been a great means for them to grow closer to one another.
Joe and Nick Dey hold an adoration for automobiles and take pride in their vehicles of choice being a Mitsubishi Evo for Joe and a Jeep for Nick. Both twins put extra care and effort in maintaining and sprucing up their car while also using this shared love to further their friendship.
Throughout each year at SJHHS, the Dey twins got along just fine as their relation to each other only grew from what it already was. "All throughout high school, me and Joe have been cruising through together," said Nick Dey. "No problems whatsoever."
Joe agrees with his brother as no rivalry sprung up to get in the way of their relationship. "We're pretty close," said Joe Dey.
The most notable takeaway from these twins' experiences at high school is that there is always a reason to go to school as long as there's someone to stick with. Someone to collaborate with, taking in all the best moments and truly living it up together. High school is the time to create new experiences, but why not take existing ones to the next level.

About the Writer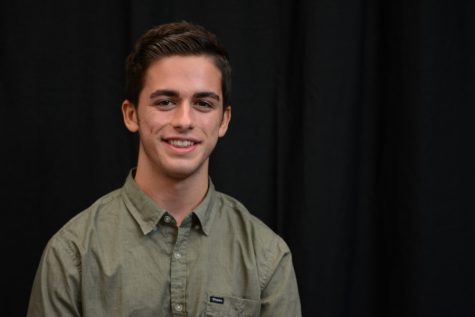 Dylan Robinson, Staff Writer
Dylan Robinson is a spry, novice journalist looking to make waves and headlines in the reporting scene. Being a senior, he is very excited to finally join The Express and test his mettle before venturing out into the dog-eat-dog real world. He is always ready to meet a new face and very much enjoys playing...