Dutch Girl Lives The American Dream
Fitting into a new school can be difficult, but imagine adjusting to a school where the people aren't even the same nationality. For Maud Van Den Elshout (11), an outgoing, trilingual exchange student from a village 10 minutes outside of Amsterdam, Netherlands, it seems easy.
However, the culture shock was a little bit difficult to adjust to because the norms and values of Dutch culture are very different than that of the United States. In the Netherlands, teenagers are seen as more independent: they start high school at age 12, and it is typical for them to have a job by the time they are 16.
Maud, or more commonly known as M by her new friends and teammates, attended a private school in the city with her twin brother, Yannis, played field hockey, and worked at a bar. Her weekends were spent staying out late and going to clubs and parties with a large group of friends.
She further explained, "My life basically was schooling, focusing on graduating, hanging out with friends, and, most importantly, getting a job. It's really expensive to live in Amsterdam as a teenager because we have the freedom to do things you aren't allowed to do in America. We have different responsibilities and priorities, for college there is free and we know that we are going to get in, so there's no real pressure there like it is in America. But we instead have the responsibility to do a lot on our own and support ourselves; as soon as you turn 12, you're an adult, no time to play around with dolls anymore."
Now Maud spends her days here studying, hanging out with a laidback group of American girl friends, trying her hand at high school lacrosse, and loving every minute of it.
Teammate Cambria Greer (12) expressed, "Maud is one of the funniest and uplifting people on JV. I have a ton of respect for her staying her by herself (aside from her host family, and her love for lacrosse is awesome."
For Maud, even being in America is a dream, for it has always been an aspiration of hers to stay here.
"When I was about 14, we stopped here during summer vacation on the way to Peru, and America became my obsession. I fell in love with America, and I kept thinking, 'Oh I need to go there for way longer. I need to experience how the cultures are because they're so different, yet so much the same from mine, and so diverse and awesome.'"
So when she was 16, she decided to enroll in an exchange program to come to California and experience the culture by attending high school.
After arriving here in June 2015, she was placed with a host family in Corona. And when issues surfaced with the family, her correspondent moved her to a really welcoming family in San Juan Capistrano, where she only stayed a month due to technical problems.
Now she is happily living with the Gardiner Family in Ladera Ranch, where she frequently hangs out with her host sister, Tessa Gardiner (10). They even included her in their family vacation to Lake Tahoe.
Tessa explains her relationship with Maud when she said, "My parents are from England and she's from the Netherlands, so we share a European background that's really easy to connect to. We involve her in everything, and she's like part of our family now since we've gotten so close."
Now Maud truly is experiencing the typical American teenage life, and even though she fully intends to return to Amsterdam by the end of the school year, she feels ecstatic to be accepted in our society.
"I know it seems silly, but I'm like 'yes! I've been accepted by the Americans!' Now I'm just in this lifestyle by playing such an American thing like lacrosse and engaging myself in all the local things like going to the beach a lot and hiking just because I can, and I'm living the American life."
About the Writer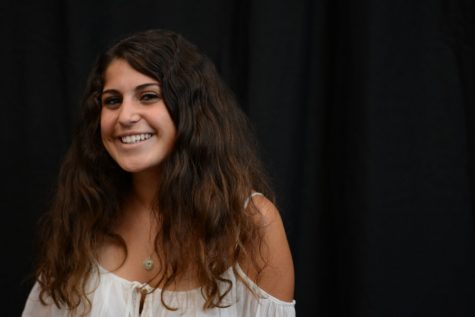 Mia N. Jones, Sports Editor
This is Mia's second year on The Express, and she is beyond excited to be a part of such a fun program her senior year! Mia plays on the Varsity lacrosse...