'Cause it's More Interesting than a Clipboard
Teachers invent creative hall passes
Hall passes have evolved through time at SJHHS.
Some will remember the days when they were little more than a laminated folder or a clipboard. Now, teachers have found ways to make restroom breaks more interesting.
Lorena Sanchez, an AP Spanish IV teacher, offers students a festive sombrero to walk around with that she bought while in Mexico visiting family. She says every year she has to get a new one because of fraying due to the many heads it has to fit.
Katie Wegner, our English III teacher, discourages students from using the bathroom with her hall pass that states, "I am losing a valuable learning experience by using the bathroom." She says, "I got the idea from another teacher, but uped the ante by adding the toilet in the background." She says that she gets a chuckle from her accelerated students but no one has yet to complain about the possibly humilating hall pass.
Mike Martinez, our athletic trainer, has a model stallion made out of medical tape that was created by one of his students, Colby Pyatt.
Bill Kaiser's 15lb silver platter has to be the most unique by far. "It's sweet 'cause…it's silver," said Josh Hubner, one of his World History students.
"I chose it because it's durable, classy, and might make people think twice about carrying it around campus because of its weight. It could also be used as a shield."
Regardless, anything is more interesting than a clipboard! Keep up the creativity teachers!
About the Writer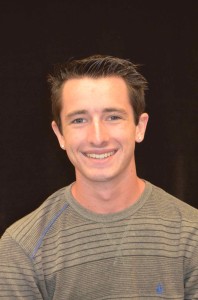 Tracy Gaylord, Staff Writer
Senior 2014
Not only do I enjoy journalism and current events,  I also enjoy skateboarding and music.  On the weekends I like to go to the beach with...