Estudiantes Que Ayudan a Deportados
Hang on for a minute...we're trying to find some more stories you might like.
Ian Fu y Gianmarco Psotka, juniors en SJHHS, son parte del programa Amigos de Detenidos de Orange County (FOCD por sus siglas en inglés), y visitan los centros de detenidos con frecuencia con metas de ayudar inmigrantes quien raramente tienen interacciones con otros.
"Una vez al mes o más, vamos a la cárcel y visitamos detenidos," dijo Fu, "y ambos hablamos en español con los detenidos porque no reciben tantos visitantes comparado a los que hablan inglés ya que no tantos hablan español en Orange County."
FOCD une a la gente para dar amor y apoyo para los inmigrantes detenidos en el Condado de Orange y estimula gente a visitar y hablar con los detenidos en la instalación de James A. Musick en Irvine, California y la instalación de Theo Lacy en Orange, California.
Sus experiencias con inmigrantes les han impactado mucho, cada uno se ha acercado con un detenido durante el tiempo visitando instalaciones.
"Visité un hombre hace cuatro meses y fui regularmente porque creé una relación con mi mamá y él." dijo Psotka. Hablaba en Español y un poco de Inglés entonces Psotka fue capaz de ayudarle aprender el idioma mejor mientras Psotka mejoraba su Español también.
Ambos estudiantes fueron a Las Palmas y han sido parte del programa de doble inmersión desde entonces.
"Él nos dijo que su testigo judicial era dos días después de que lo visitamos, y [cuando] volvimos la próxima vez nos enteremos que se salió y se reunió con su familia," dijo Psotka.
"[Mis experiencias] me han impactado mucho, la primera mujer que visité en este lugar, visité por unos cuatro meses, la vi unas siete veces, fue deportada el mes pasado, [pero] todavía tenemos contacto con ella," dijo Fu.
A través de sus experiencias con su amigo en la instalación de detenidos, Fu demuestra cómo con frecuencia, los inmigrantes no tienen ninguna opción excepto dejar su país y venir a los Estados Unidos debido a circunstancias desesperadas.   
"La razón por la cual ella estaba aquí es que recibió amenazas de muerte donde vivía, en Guatemala y fue obligada a regresar a Guatemala," dijo Fu.
Las personas siendo detenidos en estas cárceles no son limitados a hablar español. Hay personas de Haití que hablan francés, y otros que hablan [hindu] y varios idiomas africanos.  
Quieren enfocarse en construyendo a FOCD para expandir a diferentes tipos de personas, "ojalá que podamos involucrar a más personas, porque hay personas ahí que hablan muchas idiomas, y ahora solo hemos alcanzado a hablantes de inglés y español," dijo Fu.
Estos voluntarios no dan consejo legal a inmigrantes, visitan para ser amigos y mostrarles que son tan válidos como cualquier otra persona allí.
"Nuestra [meta] es solo hablar con ellos, solo somos alguien con quien hablar y es una manera interesante de aprender su historia," dijo Fu.
Información sobre involucrándose con ADOC se puede encontrar en su sitio, www.Friendsof Orange County Detainees.org, y cualquier persona puede ser voluntario si asiste una orientación para voluntarios, visita un detenido, y luego graba su visita.
About the Writer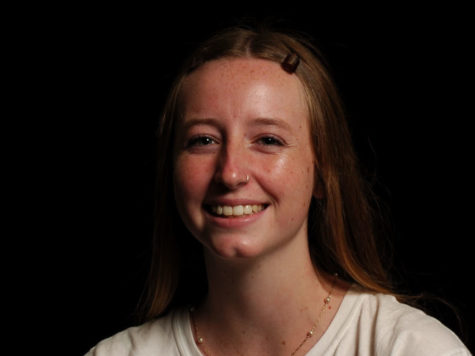 Lucy Hughitt, Staff Writer
Lucy is beginning her sophomore year at SJHHS and she is excited to be a part of this class! As the Outside A&E editor she can't wait to see what this...