The Thespian Holiday Show
Continuing holiday traditions in the midst of a pandemic posed a difficult challenge, but the Theatre department at SJH managed to do a wonderful job by continuing their annual Holiday show in a virtual format.  
"To plan, we picked a date out in October, in addition to audition dates which were in mid-November. From there, since the show was virtual, it did not take a lot of planning, mostly just rehearsing with the performers. I was responsible for making it happen, and basically acted as the assistant stage manager to Kasandra Georgi who SM'd the show," said senior theatre member Austin Zielenbach. 
The process leading up to the show was completely different from previous years, as auditions were not in person and rehearsals were virtual as well. Participants behind the scenes and on stage had to rework the acts so it would maintain a virtual audience's attention.
 "Once we had all of that figured out we went ahead with the rehearsal process and all of our actors and technicians were extremely well prepared so it went off extremely well," said co-host of the Holiday Show, Bailey Morrison. 
Bailey Morrison and Holiday Jones were the co-hosts of the Holiday show,responsible for writing the script and maintaining a fun and comedical tone in the segues between acts. 
"One crucial part to the show is the two comedic co-hosts that host the show. I honestly had no idea how that was going to work with Covid, but Bailey Moroson and Holiday Jones really pulled it off. I think that was the part I love most about this year's show," said Zielenbach. 
The show was streamed on Youtube Live, and the turnout was very impressive considering all of the extenuating circumstances. People also had viewing parties of the holiday show, so although few screens were used, the number of viewers was much more. 
"This is the biggest event that our Thespian troupe has every year, and yes it is somewhat different this year but we still get to spread Holiday laughs and smiles as well as give opportunities to students who want to perform and might not have had the chance to this year," said Morrison. 
About the Contributor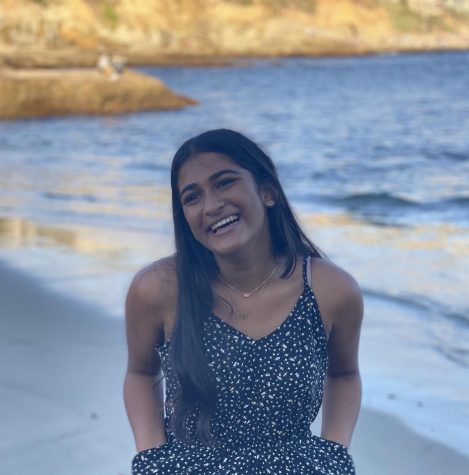 Sandhya Ganesan, Staff Writer
 This is Sandhya's third year of writing for The Express. Sandhya enjoys learning and writing about current events and wants to study political sciences...