'Little Women' Creates A New Perspective on Women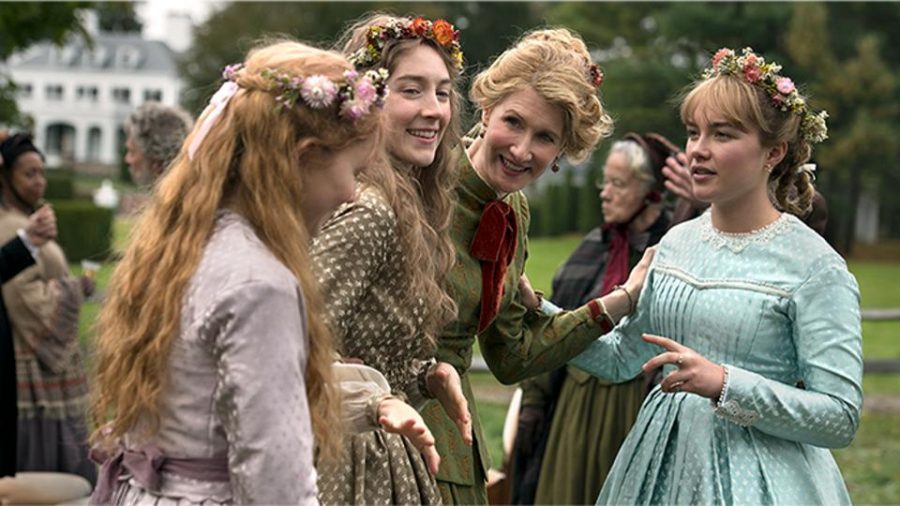 Recipient of six Academy Award nominations, Greta Gerwig's adaptation of Little Women recognizes the importance of women in all epochs. The story follows the March sisters Jo, Meg, Beth and Amy, from childhood to adulthood during the Civil War era of America.
Greta Gerwig not only directed and wrote the screenplay of the new Little Women, but she also wrote and directed the Best Picture Nominee, Lady Bird in 2018. Gerwig included both Saoirse Ronan, who plays Jo March, and Timothee Chalamet, who plays Theodore "Laurie" Laurence, from the Lady Bird cast to star in Little Women.
Compared to Little Women in 1994 which features Winona Ryder, Gerwig's adaptation weaves in the past and the present lives of the March sisters without losing focus on the plot of the story. The movie does not follow a traditional timeline and by doing so, Gerwig is able to highlight the similarities of their childhood and adulthood.  
Gerwig finds a way to keep the two time periods separated by adding a difference in hue to the screen; childhood has a warm glow while adulthood is dark and grayer. I found it very encaptivating to watch the sisters switch from their young to their older selves as well as being able to see their futures before they actually happen. 
"
A story like Little Women is meant to be told multiple times throughout history."
If you have never read Louisa May Alcott's novel, or watched a different version of the movie, then you are not aware of the plot. Originally I thought that the "out-of-order" timeline would be confusing to follow and a bit chaotic, but it ended up showcasing the effects that their past would have on their future perfectly. 
The movie makes it seem like you were there, experiencing the highs and lows with the sisters. Whether in their house performing one of Jo's plays or listening to Beth on the piano, the intimate directing makes you part of the family, and helps viewers to understand every emotion the characters experiences.
Little Women brought a new perspective into the lives of women and what roles we play in society. Jo, frustrated with her aunt's constant disapproval and pressure to marry, follows her own path towards independence. Even though she is determined to marry well, Amy knows that a woman cannot live on her own and provide for herself so she must find a wealthy husband to support her. Beth depends on her music and her family and taking care of others before herself. Meg does all she can for her family by putting their needs before her own and makes decisions that would benefit them entirely.
A story like Little Women is meant to be told multiple times throughout history. As of right now, there are six movies and over twelve adaptations for television all telling the same tale. An entire movie featuring primarily women is very uncommon, so it's important to keep Little Women going, creating something different for audiences that happens to tell a timeless, beautiful tale at the same time.