The Best of the 2010's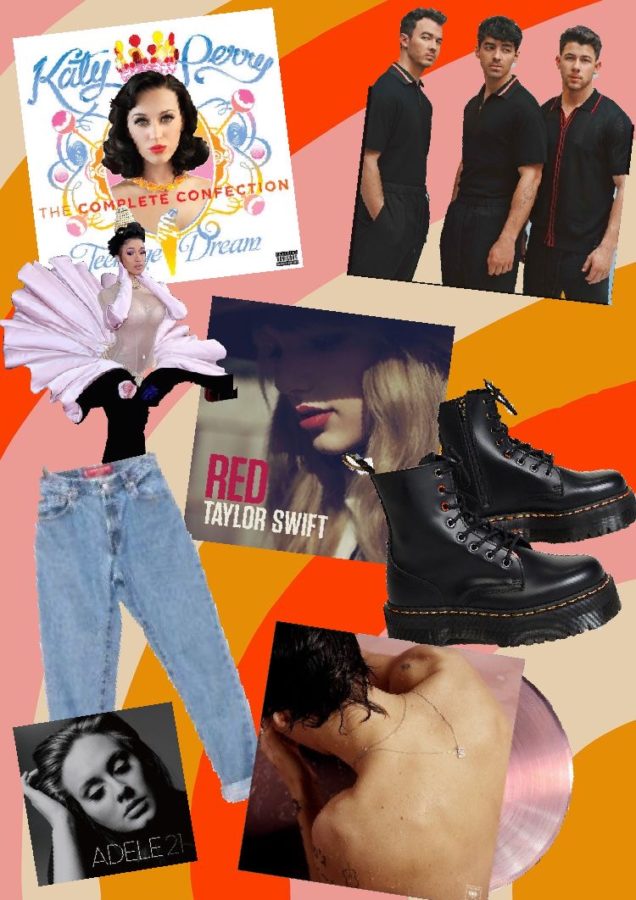 Throughout the 2010s, music has developed greatly in all kinds of genres. The decade introduced new alternatives of pop, hip-hop, and rap, encouraging entirely new styles in fashion.
2010: The release of Katy Perry's "Teenage Dream" album kicked off 2010, and allowed party-themed pop music like "California Girls," from the same album, "DJ Got us Falling in Love" by Usher, and "Raise Your Glass" by Pink to become the inspiration for almost all music in that year. 2010s fashion had a lot of skater-style outfits. Graphic tees, "dad" sneakers, and cuffed jeans basically invented the "I'm not like other girls!" trend. 
2011: 2011 popularly added instruments to create a more gloomy feel to songs while still staying in the pop genre 2010 previously had. "Someone Like You" by Adele, "Grenade" by Bruno Mars, and "Jar of Hearts" by Christina Perri appealed to listeners by connecting emotionally with the song, and that year's music remains relevant to this day. Who doesn't love a good Adele song when they're deep into a tub of Ben and Jerry's ice cream? 
2012: In the year for wedge sneakers, bold lips, and intricate nail art, Taylor Swift released her "Red" album that year, bringing lots of attention to her new artistry. Swift's transition from country to pop introduced "We Are Never Ever Getting Back Together" and "I Knew You Were Trouble," giving 2012 something to remember. 
2013: Miley Cyrus' return to the music industry was in 2013, where she released "Wrecking Ball". Cyrus showed off her break from playing Disney character Hannah Montana with an edgy pixie cut and bright red lipstick, inspiring a trend among young adults with haircuts similar to hers. The "punk-grunge" look was highly popular that year, with lots of leather, plaid, and combat boots. 
2014: This year eased out of the early 2010s "rebellious" theme into a soft, "outer space" type aesthetic with platinum blonde hair, metallic accessories, as well as a dreamy pastel color scheme in clothing. Music in 2014 although was a lot less outgoing, and showcased songs that were easy to listen to for almost any occasion. "Thinking Out Loud" by Ed Sheeran surely melted everyone's hearts, and Taylor Swift's single "Shake it Off" proved to brighten up anyone's day with its uplifting lyrics.
2015: Adele soared back to the top of the music industry in 2015 with her "25" album and song "Hello", receiving three Grammy awards. Fashion-wise, 2015 was more minimalistic, where a classic jeans and a tee-shirt could never go wrong.
"
The decade introduced new alternatives of pop, hip-hop, and rap, encouraging entirely new styles in fashion."
2016: 2016s music took a turn into a more "techno" version of pop, with "One Dance," by Drake, "Cake by the Ocean," by DNCE, and "Let Me Love You," by DJ Snake and Justin Bieber. "Black Beatles" and "Juju on that Beat" also gained fame due to the "Mannequin Challenge" and the "Juju on That Beat Dance Challenge". Techno began a transition from singer-songwriter pop into a more energetic style of music. Kylie Lip Kits also became important in the beauty industry during this time, encouraging the trend of bigger lips and lip plumper.
2017: Harry Styles broke artistry from former band One Direction in 2017 with his single "Sign of the Times." Styles quickly became an equal rights activist as well, where he began using his platform to speak his message of kindness and acceptance despite differences. Cardi B and Dua Lipa also created a name for themselves this year, with "Bodak Yellow," and "New Rules". Clunky sneakers, side striped pants, and big puffy coats became trendy this year, creating a more eclectic style for the end of the 2010s.
2018: Mom jeans, collared shirts, and high waisted pants brought the 70's aesthetic back to life in 2018. R&B and rap combined with pop made a huge comeback as artists like Post Malone, Khalid, and Marshmello rose to the top of the charts. 
2019: The Jonas Brothers reunited in 2019, and what more could anyone have asked for? The "Camp Rock" heartthrobs released "Sucker" and "Cool" and began to tour once again, stealing the spotlight easily. 2019 also brought female artist Lizzo's new album, "Cuz I Love You", that never fails to empower women with the song's message that they are strong with or without a relationship. Neons, platform shoes, and Dr.Martens  gave 2019 the same fun feel that the music did. 
The 2020's are looking toward a bright future full of new trends and ideas.
About the Writer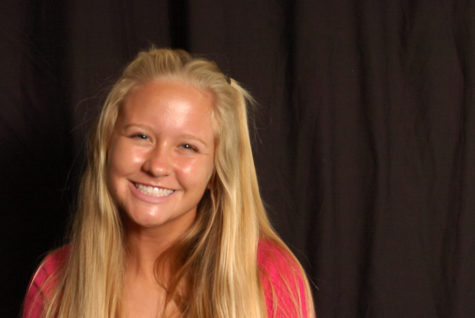 Kate Meyers, Staff Writer
Kate is a junior at SJHHS, and she could not be more excited to be news editor and start her third year on The Express! She pitches on the San Juan softball...